meet in venice on may 9th 2019!
ninth cei venice forum for contemporary art curators
from May 9th 2019 to May 9th 2019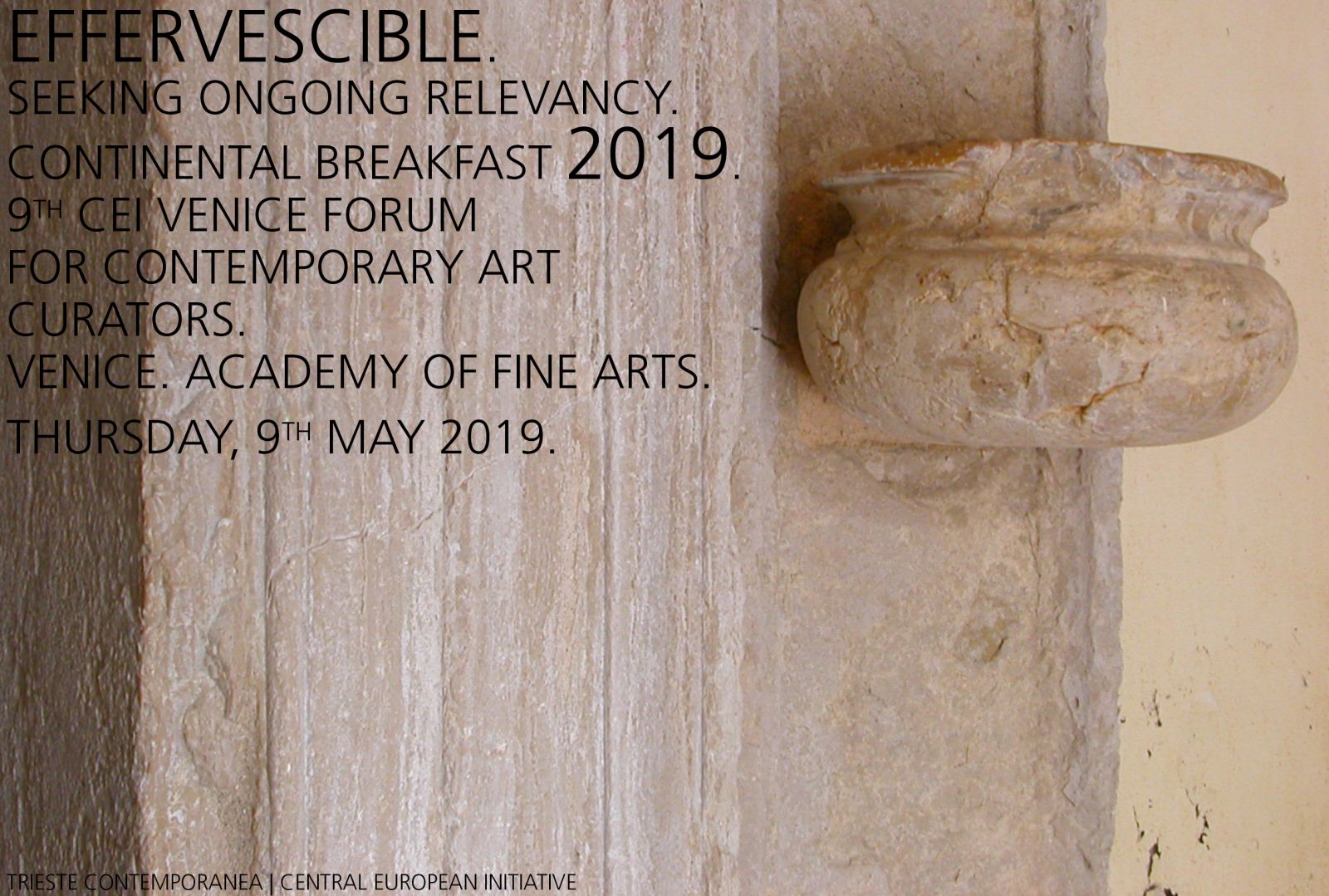 EFFERVESCIBLE
SEEKING ONGOING RELEVANCY
9th CEI Venice Forum for Contemporary Art Curators from Central Eastern Europe.
Continental Breakfast 2019.
Venice, Academy of Fine Arts (Dorsoduro 423)
Thursday 9th May 2019 [14:30 – 18:30]
In the spirit of creating a preview-map of what will be of relevance in the context of contemporary debate in the arts in 2019-2020, and thus collecting ongoing curatorial concepts/activities/proposals in this two year period from the international curators present at the meeting, the 9th CEI Venice Forum for Contemporary Art Curators will be held at the Academy of Fine Arts in Venice on Thursday 9th May 2019, 2:30 – 6:30 pm.
Since 2003 the Forum has been a CEI Feature Event, under the patronage of the
Central European Initiative
. It is a biennial moment of encounter and exchange of curatorial practices among curators of contemporary art in Central Eastern Europe. The 2019 Forum will bring together national commissioners of the Biennale, museum directors, international art curators, contemporary art organisers, young curators and key figures for contemporary art institutions.
The Forum will consist of a series of contributions (in English, 10 minutes) in which speakers will tell the audience from which point of view they are looking at the facts of today's contemporary art and will explain why, in their opinion, this point of view is important to deal with nowadays. They will suggest artists who they are particularly interested in. They will point what they consider currently effervescible, what are significant new trends. They will also share what ongoing action they know they would define as good public policy for contemporary art and what in their opinion should not be over looked.
The Forum is a CEI Feature Event and a Continental Breakfast project. | It is conceived and organised by the Trieste Contemporanea Committee in cooperation with the CEI-Central European Initiative and in collaboration with the Academy of Fine Arts in Venice. | The event is being held under the patronage of the Ministry of Foreign Affairs and International Cooperation, the CEI - Central European Initiative, the Regione del Veneto, the Trieste Town Council, the Ca' Foscari University and the Academy of Fine Arts in Venice, the University of Trieste. | It is supported by the CEI, the Regione autonoma Friuli Venezia Giulia and the BEBA Foundation of Venice. | Special collaborations in Venice: Juliet Art Magazine, Compagnia della Vela.
A second CEI Forum session will be held in Trieste at the Studio Tommaseo on 25th October 2019.

[update: 03/05/2019]
INFO
Trieste Contemporanea.
Dialogues with the Art of Central Eastern Europe
info@triestecontemporanea.it
T +39 040 639187 (Tue.-Sat. 17-20)