continental breakfast. place of encounter. 2011
fifth cei venice forum for contemporary art curators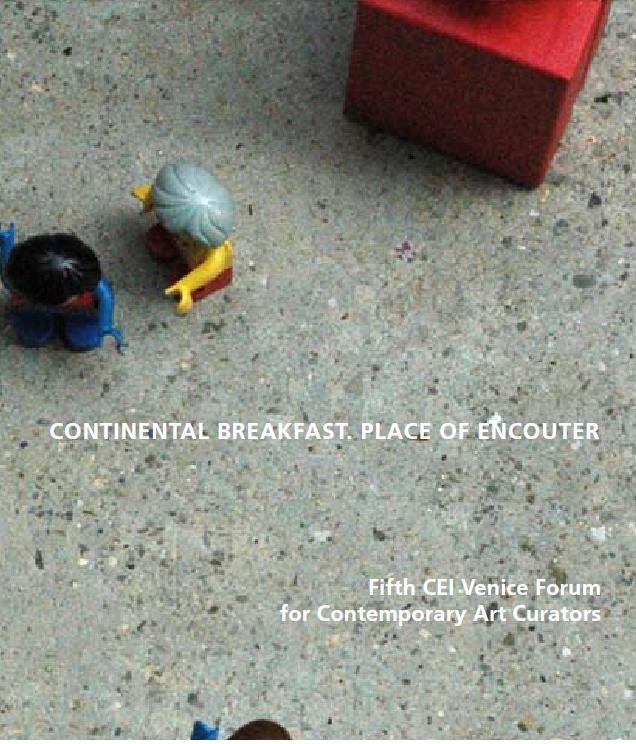 Editor Giuliana Carbi
pp. 222, b/w, 2011, Trieste Contemporanea publisher, Trieste

VENICE, Palazzo Zorzi, Castello 4930, JUNE 1st, 2011
TRIESTE, Studio Tommaseo, via del Monte2/1, JUNE 3rd-4th, 2011

a CEI Feature Event
a Continental Breakfast project
an event under the patronage of Mrs. Androulla Vassiliou
Member of the European Commission

The Forum is conceived and organised by the Trieste Contemporanea Commitee, in collaboration with the UNESCO Office in Venice, under the patronage of the Central European Initiative (CEI), the Italian Ministry of the Foreign Affairs, the Italian Ministry of Cultural Heritage and Activities, the Regione Veneto, the Provincia di Venezia, the Provincia di Trieste, the Comune di Venezia Assessorato alle Attività Culturali, the Comune di Trieste and the University of Trieste. It is supported by the CEI, the Regione Autonoma Friuli Venezia Giulia, the Provincia di Trieste and the BEBA Foundation of Venice.