MAIN THEME OF THE 2016 COMPETITION
Water is an essential resource. A vast series of human activities – regarding both work and recreation – involves water. Europe is surrounded by the sea and is scattered with rivers and lakes. This natural element is inextricably tied to the life of European man and has value for both economic and geopolitical union and separation. The means of commercial and pleasure navigation and the instruments and constructions utilized to carry out activities involving water are the objects of an important productive industry, that increasingly responds in a specialized way to the limits and to the old and new requests of this sector.
Contestants are asked to make reference to an element/elements of life and work on water which is/are an original and distinctive feature of a place in one of the countries within the purview of the competition, possibly studying a local know-how or exceptional/excellent tradition of that place, and then, using this object of interest as inspiration, to conceive an original item of contemporary design which caters to the latest needs present in the sector.
WINNERS EX AEQUO OF THE 2016 GILLO DORFLES AWARD

Ena Priselec (Croatia)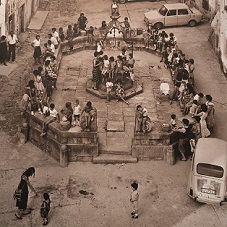 source: Šterna. One of the objects that best characterizes a thrifty insular lifestyle is the šterna – a water cistern that collects rainwater, and an important feature of public equipment present in almost every coastal square. Its primary purpose is to collect rainwater throughout the year, which will in periods of drought serve as an additional water resource available to all. The main square and its šterna has in the past been the central place of social life of coastal communities, a meeting point and symbolic object of the community and the equal sharing between its members.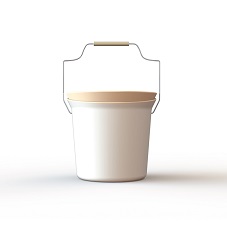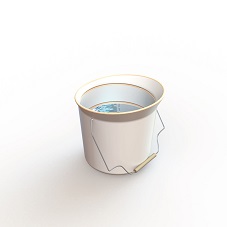 Šterna water bucket. The concept is to create a household product of everyday usage, which relies on the local tradition of collecting rainwater, a globally available source of water. That kind of product also reminds that rainy days at sea are a precious, and not an unwanted event.
As household equipment, it has the size and shape of a bucket, in an upgraded form.
Each bucket has a filter and removes the impurities due to exposure to external conditions and rain. It is made of ceramic not only because of the link to local production, but also because of its properties of temperature and water quality preservation, and its porosity that can serve as a filter. The handle is a detail which subtly reveals the inspiration and reference, and symbolically represents the claimed connection with a water tank. Also, the shape of the handle and the selection of the glaze becomes elements where manufacturers / artisans can express their local style.
The concept serves as an element of local activity to educate and remind about the limited resources and the importance of sharing and communication in the community.
It evokes the experience such as the tradition of washing in rainwater, and modestly contributes to the needs for water in everyday life. It can also serve as a ritual act of pouring water content in the shared public water supply tank, a symbolic contribution to the community and an act of solidarity.
Dominik Uhlíř (Czech Republic)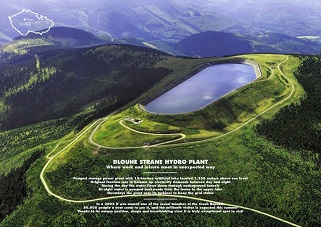 source: Dlouhe Strane hydro plant. Where work and leisure meet in unexpected ways. Dlouhe Strane hydro plant is a pumped storage power plant with a 15-hectare artificial lake located 1350 meters above sea-level. The original function was to balance up electricity demands between day and night. During the day, the water flows down through underground tunnels; at night water is pumped backwards from the lower to the upper lake. Nowadays the plant uses its turbines to keep the grid stable. Thanks to its unique position, shape and breath-taking view, it is a truly exceptional place to visit. The plant, conceived in the communist era, was originally fenced off. In 1996, the power company opened it to visitors. In a 2005 it was named one of the seven wonders of the Czech Republic. 80,000 people a year come to see it, and the millionth visitor is expected this summer. To get to the top, take the ski lift or just use the network of bicycle and hiking routes. To get down, rent a bike and enjoy a 17 km downhill ride, the longest such track in the country.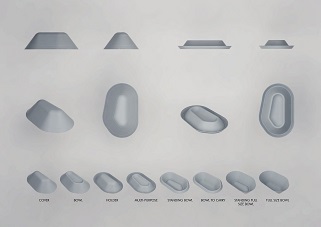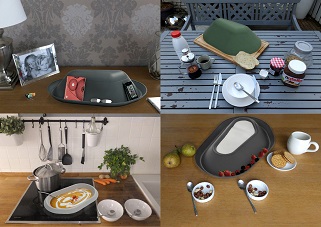 Flip. I chose this special place for its unique combination of industry and recreation purpose. Together with unusual, cut-like, flat mountain top shape and upper lake perimeter, it nearly cries out to be reproduced as a contemporary design object. Inspired by the contour, I created Flip. Silicone bowl/container which can be easily reshaped by simply flipping its edge or top. Customise to your current need in the kitchen and create a bowl to serve soups, sauces, desserts and fruits or use it as a lid covering food to prevent it rotting. Keep it in any room as a container for things you need around – keys, glasses, USB devices, pencils and hide those you don't. Flip its edge and use it as a phone, tablet or book holder. This eco-friendly, food-grade silicone object is easy and cheap to produce by moulding it into form. With the possibility to flatpack it, it hardly takes any space. Light weight, you can take it wherever you want. Flip is an original piece of tableware you will be proud to have on your shelf.
see Priselec's project
see Uhlíř's project
read the announcement