6 november 2007
massimo premuda interviews the artist
MP (Massimo Premuda): Merzbau, the environmental piece by the German artist Kurt Schwitters is considered by many to be the first example of installation and since the end of the Second World War this technique has been extremely diffused amongst artists belonging to different trends, especially thanks to the use of environments. Therefore the installation derives from the extension and the expansion of collages and paintings, rather than sculpture, and it is oriented to the creation of whole environments, intended as a dilatation into space of the paintings and as an opening towards the contaminations with new media and with different forms of art. Also your tension and the subsequent path towards installation make their first moves from these same principles, interests and needs?
EM (Emanuela Marassi): The destruction of the easel was my first installation and I entitled it Transformation in Pink. It originated from the need of removing from the easel (that was reigning sovereign in the middle of the studio) its use, because in those years I considered it useless and I wanted to give this instrument another possibility, transforming it into one of my sculptures, painting it pink and covering it with lace and ribbons. It was an "angry" period, I was gaining awareness with a group of artist girlfriends and I was feeling more and more rebellious towards the world, also thanks to the influence of Cernigoj (who had been my teacher for years) and to his rigour, to his great personality and to his strict and sometimes ferocious judgement of my desire for free creativity. I worked for days, without letting him come to my studio; I wanted to finish the work without anyone putting me down.
I painted some red mouths (oil paints on canvas), coloured and dripping, I put one on the easel and the others all around it. I filled the studio with pink tulle, wrapping all my work with it. Then, when I concluded my work, I called Liliana D'Osmo in order to take some pictures of my installation. She was great, and she had a lot of fun. The pictures were awesome.
The sarcastic expression of Cernigoj, when he came to my studio, was expressed by a ferocious "Zucker Bäcker" (confectioner's shop). On the contrary I was very pleased with myself, not because of the great result of my work; in fact I still had some doubts about it, but because of the brave achievement of being myself freely.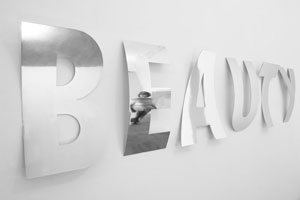 Beauty, 2007
6 elements chromium-plated metal
cm 70x370x7
ph. Marino Ierman
courtesy Studio Tommaseo, Trieste
MP: During your long and rich artistic experience you have dealt with different techniques, from more traditional ones like drawing, painting and sculpture to more recent media like photography, video making and performance, to unusual expressive forms like inlaying and embroidery, always trying to give them a contemporary feeling. In the light of what you asserted before, what do installations represent for you? Why did you choose this technique for your last researches? Do you consider it a way of involving the audience more?
EM: An Installation is the extension of my thought, an enlarged story where in the wholeness I have the freedom to use very different techniques and materials, always directed to the result of the operation. I do not think about the audience, not for indifference or carelessness, but because I try to elude eventual conditionings. The conclusion is fundamental, shrouded in the clearness of the concept.
MP: I know that you regularly frequent the most important international art exhibitions. Which installation, that you recently experienced, involved, fascinated or touched you most?
EM : It's true, when I can, I always try to visit the main art shows around, also abroad. I think it is the right thing to do in order to compare myself with other artists. There are so many artists that I esteem and "I'd like to be"…
I'm really fascinated by the greatness of Vanessa Beecroft and by Christo's works, which left me completely breathless. In addition to that I can't deny being a great admirer of the group "Irwin" right from the beginning of their formation and I cannot forget to mention the Sociètas Raffaello Sanzio' videos and the amazement experienced thanks to the last video installation made by Bill Viola at the San Gallo's Church in Venice. It was completely overwhelming and involving. And so… "I'd like to be"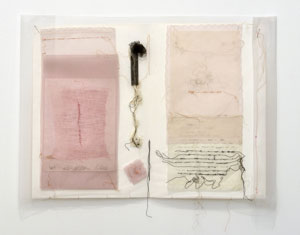 Giornale / Journal, 1978
rice paper, tulle and thread
cm 60×85
ph. Marino Ierman
courtesy Studio Tommaseo, Trieste
MP: Often your installations are matched to performances. What is the reason of this choice? Do you reckon it's a necessary integration?
EM : I don't think that is indispensable, at least not always. But sometimes when you are following your natural creativity the connection of the events can be inevitable: in those cases it can happen that the relationship between installation, performance and video can underline, or even perfect, the concept, thanks to the use of different kind of languages.
MP: Your first installation is called Il Cavaliere (The Knight) ad it was made in 1981. Often for the creation of more complex works your starting point is Greek mythology or the European fables. So, in order to create an installation, we have to start from a story or from a tale?
EM : Il Cavaliere was a long and overwhelming work. A short time had passed since I had experienced the pain of losing my father and during the realization I was searching into my memories and my emotions for a quality close to my father's personality.
When I was a child I used to daydream. I lived dreaming. At school when someone talked to me I didn't answer. I didn't hear what they were saying…and the kids used to call me "sleepyhead".
The idea of Il Cavaliere occurred to me by chance. The inspiration came through a letter of condolence sent from England. There was a knight on it, with a cross and there were listed the 36 qualities that someone should have to be considered a knight. That image inspired me and in that moment I could already see the work completed. It helped me to come out of mourning.
And in that moment came out the irony that characterizes many of my works. I imagine myself like an acrobat, walking on the line between irony and poetry.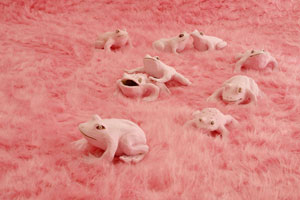 Rospirosa, 2007
installazione
pink wall-to-wall carpeting, painted baked clay
variable dimensions
ph. Marino Ierman
courtesy Studio Tommaseo, Trieste

MP: Would you like to tell me something about your new two installations Beauty, staged at the Museo Revoltella, and Echo e Narciso, hosted by the Studio Tommaseo? Which kind of imaginary fields inspire you?
EM : Beauty is a part of Il Cavaliere. It represents the total sum of the qualities possessed by the knight. The six letters that form the word beauty reflect and deform the image when you approach. They are crude, cold and sharp. They scorn our desire of beauty. The exhibition held at the museum is ironically inspired by "Beauty", presenting a series of works and installations, exactly like the exhibition Echo e Narciso at the Studio Tommaseo.
The myth of Narcissus is connected to the beauty of the body, Narcissus loves himself, but he's also loved by the nymph Echo. A love not returned inevitably ends and Echo is transformed into stone. Narcissus, in love with the reflection of his own image, dies of consumption and is transformed into a flower. A flower that leads the way to "Narkissos", the infernals. The intensity of its perfume narcotizes you. I finalized this installation with a sculpture and its negative side and then…the narcissuses…
MP: So these are new and site specific works; but, in your opinion, during the project stage, is it important to respect or revolutionize completely the space that will host your installation? Do you prefer to respect the nature of the place or alter it completely, making it undecipherable?
EM : It's important to impose your idea in the expositive space. It's important to bend it, expand it, and reduce it. You can do anything. You have to be sensitive and guarantee that your work has the right setting. In every preparation there are some rules that you learn with the passing of time: every work piece needs its "solitude". Sometimes you can risk arranging an "anachronistic" setting: if the work is good and it keeps up.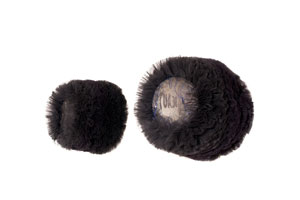 Untitled, 1994
tulle on metal, concave and convex mirror
cm 40x40x35
ph. Marino Ierman
courtesy Studio Tommaseo, Trieste
MP: Finally I would like to hear from you a definition of your critical use of pink, always present in your installations.
EM : Pink is reassuring. Everyone likes it. But I'm still trying to understand why everyone likes it and at the same time is ashamed of this "weakness". That's all: "Pink". Red plus white or white plus red. It's the colour imposed on girls, the colour of the cake's cream, the colour of mucosa.
"Voi la bocca rosata, e rosate le guance avete ancora", (you still have the rosy mouth and rosy cheeks) quoting Tasso. I'm interested in this colour's seduction, in its effect on me and on the audience. And then there is "The Rose". It has been in my creations for years as well. The titles of some of my shows are: Trasformazione in Rosa (Transformation in Pink), Il Cavaliere, Aurora Musis Amica (AMA), Androgino Ginardo, Rosa Profondo (Deep Pink), Uno fa da Rosaio altri da Rubarose (One plays the Rosary and the others the Rose Thieves), Uniquique Sua Rosa ( To each Man his Rose), Rose Esagerate (Exaggerated Roses).
It was a fascinating esoteric journey. Every exhibition brought me to the next one out of necessity. The symbols were the great cognitive vehicles I got carried away with.
Rosa Alba (the White rose) and Rosa Rubea (the Red Rose) in alchemy. The Mystic Rose bathing in the Cross's blood. The Rose of the Templars. The Fraternity of the Rose Cross Christi. The rose in the esoteric knowledge. The Rose Mary Daughter of the Son, Rose that reigns in the Rose of the Tenth Heaven.
And in the end, but without an end…"l'Aurora altro non è se non la simbolica ghirlanda di rose amata dal poeta" (Dawn is nothing but the symbolic garland of roses loved by the poet): I can't quote Alfredo Cattabiani without emotion.
I provoke through irony and poetry and I feel provoked by them. I skim over these themes directed at human beings and to their incapability of being themselves in depth, where masculine and feminine are confused and everyone is a "being". And it is in this "being" that I can feel Art rise and grow.