15 november 2007
maria lai's exhibition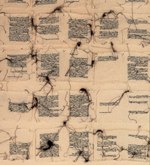 The works of Maria Lai are exhibited at Spazio Comunicarte, from 10th November to 5th December, in occasion of her show "Come in un gioco" (Like in a game). The artist's sophisticated and poetic imaginary is expressed in a precious series of works, coming from the collection of the Studio Tommaseo, that were realized between the end of the Seventies and the beginning of the Eighties. This exhibition stresses the Triestine return of the Sardinian artist, today considered undoubtely as one of the most important Italian contemporary artists, who has been working with Studio Tommaseo for thirty years.
The exhibition gives the opportunity of viewing video/interviews with Maria Lai as well as consult a rich bibliografy about the artist.
The event, conceived by Barbara della Polla and the Social Co-op Cassiopea, is promoted by S.I.L. (the Italian Society of Literate Women) and supported by Regione Autonoma Friuli Venezia Giulia and Stazione dell'Arte Ulassai.
Maria Lai
COME IN UN GIOCO (like in a game)
From 10th November to 5th December 2007
Trieste, Spazio Comunicarte (via San Nicolò 29)
From Monday to Friday, 5pm-8pm