15 february 2008
first appointment with videospritz #3, friday 15th february 2008 at 7pm
Videospritz #3
a Trieste Contemporanea production in association with Continental Breakfast project
with the participation of Casa dell'Arte Trieste
supported by Regione Autonoma Friuli Venezia Giulia
curator Dubravka Cherubini
Finding Grandma's Garden
two-screen film and a book
Mini DV, tranferred to DVD, 20 min
filmed by Violana Murataj & Breda Beban
edited by Maverick Litchfield Kelly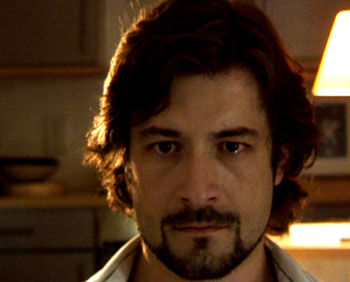 Finding Grandma's Garden, part of the imagine art after project, curated by Breda Beban, is a collaborative work, by Denis Hyka who left Tirana and Violana Murataj who stayed in the city. Performing a piece of detective work both on the city itself and Hyka's emotions, the project explores the archeology of memory and the social and psychological impact of the movement of people. The film juxtaposes Murataj's journey to locate Hyka's grandmother's garden with a landscape of Hyka's emotions revealed through a fixed frame close-up on his face as he watches Murataj's film (Hyka's grandmother passed away last year). The book features Hyka's drawings and Muartaj's photographs, accompanied by personal stories in English and Albanian.
Denis Hyka (born 1976, Albania)
Based in London since 1997, Denis Hyka has not been back to Albania. His drawings range from romantic portrayals of sensual love to the streetscapes of his youth in Tirana. Dreamlike in quality and rich in detail, they capture the urgency to record fleeting moments with a passionate yet determined brushstroke. Hyka's drawings are small in scale on surfaces that range from notebooks to napkins.
Violana Murataj (born 1984, Albania, lives and works in Tirana)
Violana Murataj's videos and photographs are understated explorations of the shifting value system of the society she grew up in. The armed revolt of 1998, which she experienced as a teenager, separated her youth under communism from her contemporary life. An acute awareness of the undercurrent of history within the present moment marks her work as she journeys through Tirana.