12 may 2008
the exhibition of claudio ambrosini opens next friday
On Friday 16th May at 6.30pm, at the Studio Tommaseo, Claudio Ambrosini, the Venetian composer and artist, winner of the 2007 Golden Lion for Music of the Present, will open his show Attimi relativi– scores, musical graphemes, compressions, installations, performances, videotapes. Selected pieces on paper, videos and photographies realized in the years 1969-1979 will be displayed, that have an evident connection with sound.
The exhibition will last until 18th August 2008.
At the beginning of the 70ies, I entitled "Attimo Relativo" (relative moment) some musical compositions that lasted between 1 and 5 seconds. At most 10 seconds. They were 'sound flashes', dazzling and often violent. The scores were composed by a single sheet of paper and the notes were connected also by extra-musical means and events. At that time I worked also on the idea of 'compression' of an entire musical piece – often classical music – in an instant. In this case the scores looked like sculptures, like raised strings made heavier by knots (Claudio Ambrosini).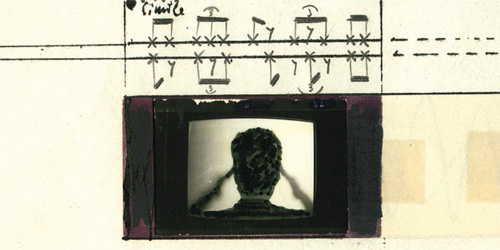 Claudio Ambrosini
Attimi relativi (relative moments)
scores, musical graphemes, compressions, installations,
performances, videotapes 1969-1979

16th May>18th August 2008
a co-production Trieste Contemporanea and L'Officina
supported by Casa dell'Arte, Trieste
curator Giuliana Carbi
opening Friday 16th May at 6.30pm
at Studio Tommaseo (Trieste, via del Monte 2/1)
admission free
opening times: Monday to Saturday, 5pm-8pm
info +39 040 639187