28 may 2014
photography in public domain


Breda Beban, Airport Chapels, 2003 / Adrian Paci, One and twenty-four chairs, 2012
Zipped Worlds
Photography in Public Domain
Breda Beban, Emma Ciceri, Fabrizio Giraldi, G.R.A.M., KOLEKTIVA, Borut Krajnc, Paula Muhr, Adrian Paci
May 30 – June 18, 2014
opening: May 30, 8 pm

Photonic Moments 2014 – Month of Photography
Kult 3000 Gallery
Metelkova ulica 2/b,
Ljubljana Slovenia
Artists selected by Trieste Contemporanea: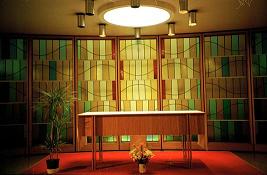 BREDA BEBAN
Airport Chapels (2003)
From a series of 5 photographs taken in various places (Belgrade, Zagreb, Wien, London) and part of the exhibition Touchdown at Peer, London, 2003, this work deals with privacy and emotions. In the cold and depersonalized objectivity of airports a chapel is a possible form of "immobile place".
Breda Beban (1952 – 2012) was an artist, filmmaker and curator/creative producer whose work deals with contemporary notions of subjectivity and emotion that occur on the margins of big stories about geography, politics and love. Breda Beban's films and photographs are unique expressions of intimacy, vulnerability and authenticity. Born in Novi Sad, ex-Yugoslavia in 1952, Breda Beban was raised in Macedonia and Croatia. She studied painting at the Academy of Fine Arts in Zagreb. Starting her career as a painter and performance artist, she began to work with film, video, and photography after meeting her partner and collaborator Hrvoje Horvatic in the mid-eighties. Exiled together in 1991 after outbreak of the war in former Yugoslavia, they travelled from place to place before eventually settling in London, where they continued their collaboration until Horvatic's untimely death in 1997. Breda Beban lived in London and Sheffield, where she was professor of Media Arts at Sheffield Hallam University. She has fashioned a range of productions that have been exhibited at major museums of contemporary art in Europe and the U.S.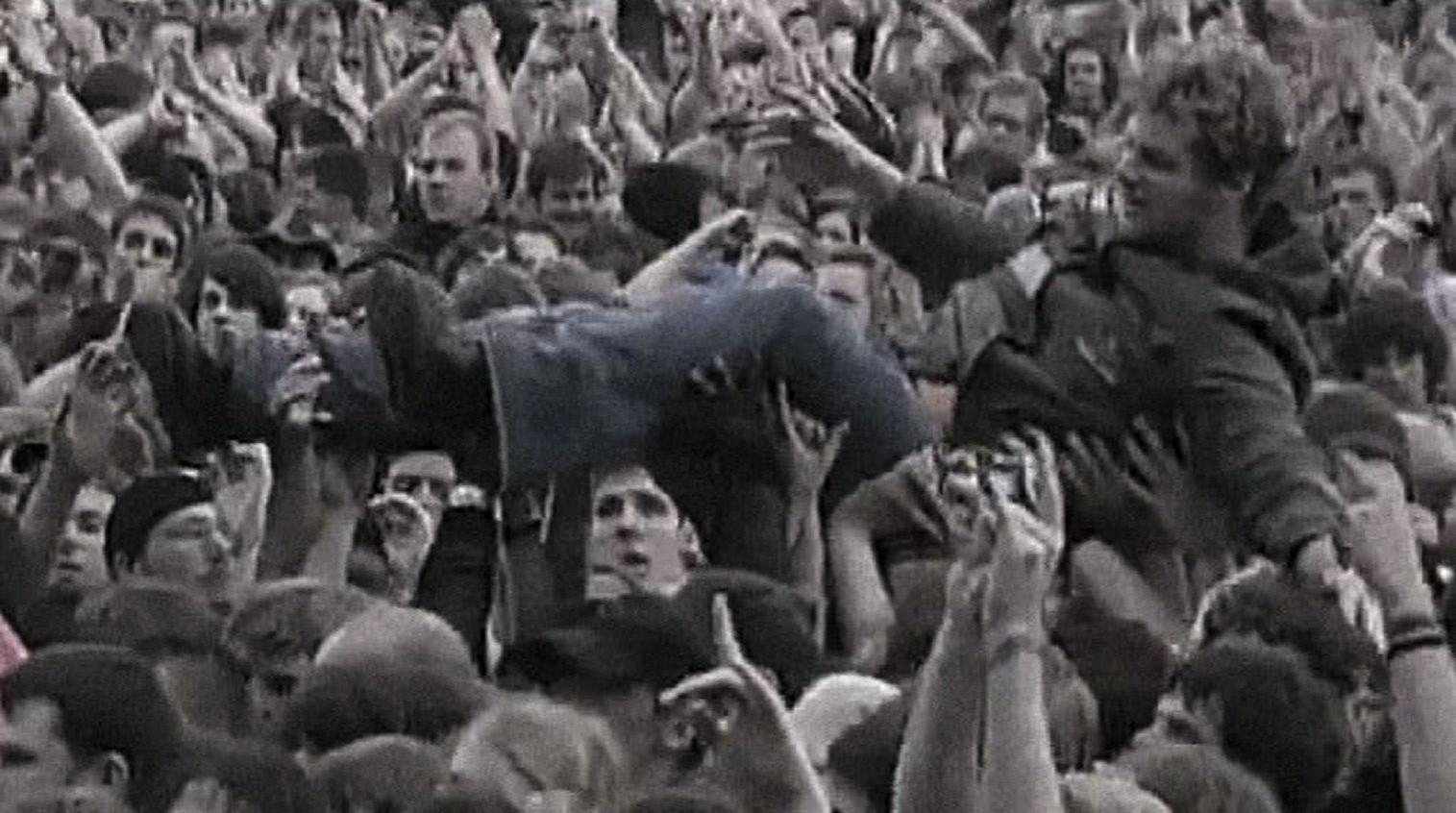 EMMA CICERI
Anatomia – Folle (anatomy – crowds), 2013
A powerful timeless immersion Emma Ciceri deals with when "abducting" examples of crowd surfing on YouTube (in this manner young bodies are raised over the heads of onlookers at rock concerts). Among the particular ways individuals aggregate, the crowd belongs to the group of dynamic systems. The emotions inside a crown are both very simple and much exaggerated and every single component of a crown is equal and different at the same time (society of "equals" and singularity of "I").
Emma Ciceri was born in 1983 in Bergamo (Italy) and graduated from the Academies of Fine Arts of Bergamo and Milan. Since 2007 she has been assistant of Adrian Paci at IUAV University of Venice first and then at NABA Academy in Milan. Among her recent solo shows there are the following: 2014 Zones, Institute of Contemporary Art, Zagreb; 2013 Anatomia – Folle, Galleria Riccardo Crespi, Milano; 2012 Zone, CHAN, Genova; 2010 In ordinario moto, ARS, Bergamo. She has taken part in several group shows in Albania, Croatia, France, Italy and Spain.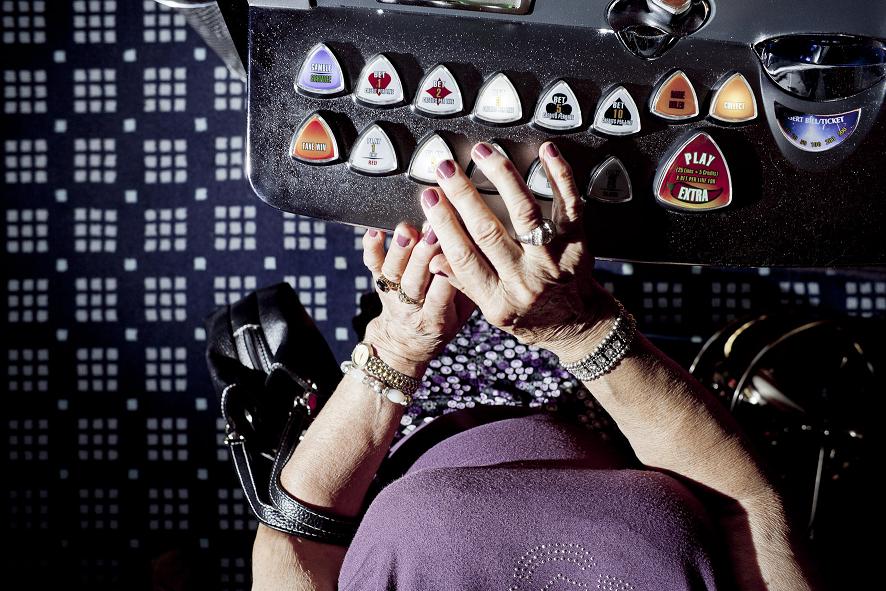 FABRIZIO GIRALDI
The rules of the game (2014)
The work depicts slot players and their repetition compulsion. Gambling is a widespread problem of addiction in Italy, that Government tries to stop by low. This series of photos focuses on hands of all ages gaming at video lottery terminals in bars, tobacco shops, gas stations…
Fabrizio Giraldi (1976) is a freelance photographer based in Northeast Italy. In 2002 he joined the grazianeri agency and in 2010 he co-founded the LUZphoto agency. He graduated from the Art Institute of Trieste. His work is featured in leading international publications and largest Italian magazines such as D, Espresso, Internazionale, Io donna, National Geographic, Panorama, Stern, Vanity Fair. Among his recent group shows there are the following: 2012 Zingst Umweltfotofestival, Zingst; 2011 Italian Geographic, Roma; 2010 Rencontres d'Arles, Arles; 2010 Ivrea Foto Festival, Ivrea 2010.
ADRIAN PACI
One and twenty-four chairs (2012)
The action, performed in Cosenza at the marketplace of the Arenella, is based on the very simple act of carrying a chair from home to the public place and make a circle of chairs with other people. The rhythm given by each individual coming and the anticipation in the air for complete community gathering are at the core of this dense work.
Adrian Paci was born in 1969 in Shkoder, Albania. He graduated at Academy of Art of Tirana. In 1997 moved to Milan where he lives and works. Over his career he exhibited in different solo shows such as at National Gallery of Kosovo, Prishtina (2012), Kunsthaus Zurich, Istanbul Modern and at Bloomberg Space in London (2010), at CCA in Tel Aviv (2009), at Kunstverein Hannover (2008); at Museum am Ostwall in Dortmund (2007), at Galleria Civica of Modena (2006), at P.S.1 in New York and at Contemporary Arts Museum, Houston (2005). His works were showed in many group exhibitions, at MAXXI, Rome, Kunstverein Wiesbaden, Germany, MUSAC, Leon, Triennale di Milano, Milan, Museum of the Seam, Jerusalem, The National Museum of Art, Oslo (2012), at ZKM Center for Art and Media, Karlsruhe, Germany (2011), at Fondazione Sandretto Re Rebaudengo, Turin (2010), at Kunsthaus Granz (2009), at MART in Rovereto (2009) and at Tate Modern in London (2008), at Power Plant in Toronto and at P.S.1 in New York (2007), at Kunsthalle Fridericianum in Kassel and at Spazio Oberdan in Milan (2006). He has also taken part in the leading contemporary art main venues including Manifesta in 2000, Biennale di Venezia in 1999 and in 2005, Biennale of Sydney in 2006, Quadriennale di Roma in 2008 in which he won the first price and he also participated at the Biennale de Lyon in 2009. In 2013 he exhibited solo show at Jeu de Paume, Paris, at Musée d'art contemporain, Montréal and at PAC, Milan and in 2014 at Röda Sten Konsthall, Goteborg.