03 october 2015
the winners of the first edition of the squeeze it contest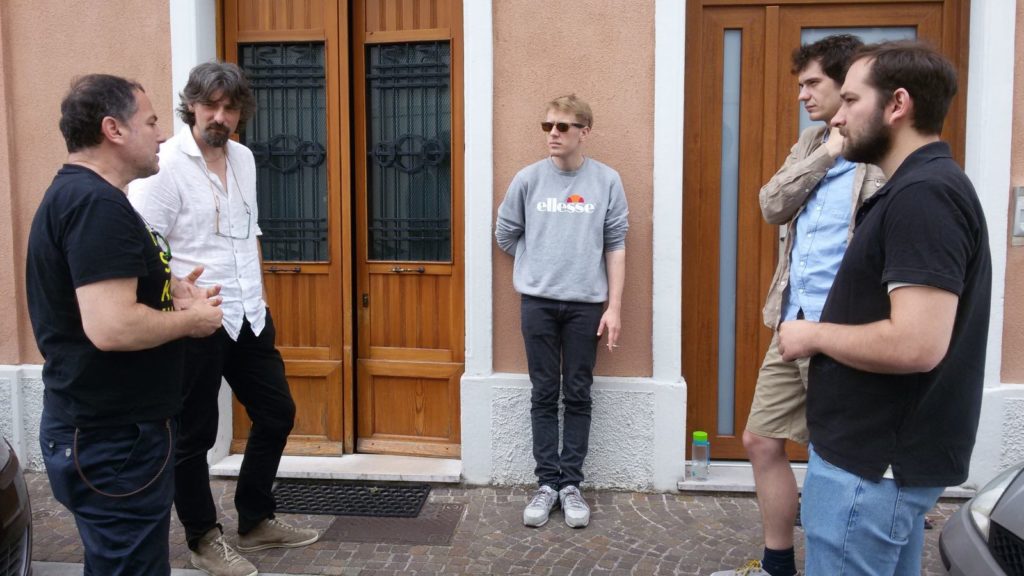 A break during the editing of the film. From left: Adrian Paci, Paolo Comuzzi and Luka Kedžo, Ivo Kušek and Damir Ivanković, members of the Komična Hunta,
Perfurmance  by Komična Hunta (HR) has been awarded the 2014 FRANCO JESURUN AWARD at the first edition of the Squeeze it Contest for creative young Europeans at the crossing of theatre, the visual arts and the new media.
The Award was decided by the jury at the closing evening of the competition, held on the 21st of February, 2015, and in which the three FINALISTS'  theatrical actions were performed – Hello Earth by Lina Hermsdorf (D), Illusory Curtains by Arja Kärkkäinen (FIN) and Perfurmance by Komična Hunta group (HR).
According to the Award rules the winning group Komična Hunta was awarded the opportunity to have a video made of their performance.
Adrian Paci was designated video production supervisor.
The performance has been filmed at Studio Tommaseo in Trieste on June 19, 2015.
The premiere screening of Perfurmance will be held in Trieste, on October 24, 2015, in the frame of BEFORE NUMBERS initiative.
read the announcement
watch the semifinalist clips
the decision of the jury
the workshop
the final evening