HARBOUR FOR CULTURES – H/C is a great challenge for inhabitants and lovers of Trieste.
Plan with us a brand new 'Old harbour' and a meeting place for people and cultures!
You can find the map of the H/C project at Studio Tommaseo and soon around the city in some special places and cafes that support the project.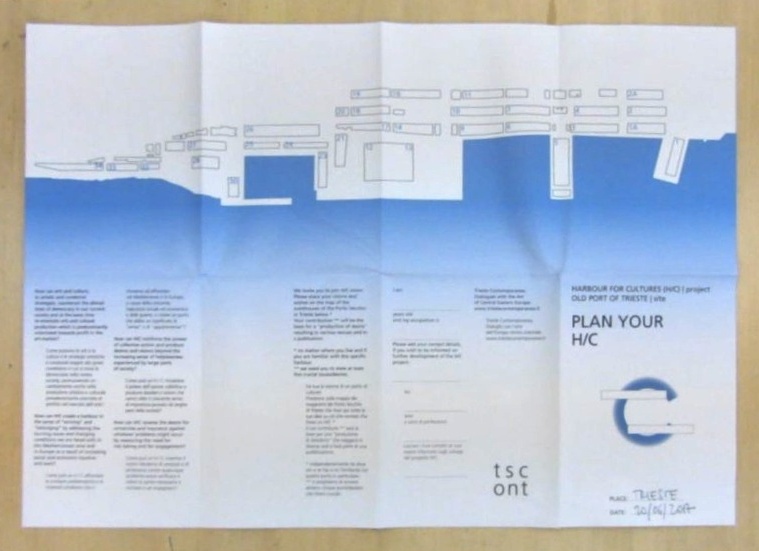 INSTRUCTIONS:
1. unfold the map.
2. imagine what would you like a Harbour for Cultures to be, then write on the map of the warehouses your ideas (concepts, words, sentences, drawings and so on).
You can fill the map with friends, at the beach, at a dinner, with your pupils, together with your sons, grandsons and whoever you like.
3. this map has been printed on carbon paper: you can write on the first sheet and keep the second one for yourself.
4. let us have the plan of the Harbour for Cultures at Studio Tommaseo.
Your contribution will be the basis for a 'production of desire' resulting in various venues and in a publication.
Every Thursday of July from 6pm onwards, Studio Tommaseo will be hosting workshops and special meetings to plan, discuss and exchange ideas about the H/C map. Come along to take part in our volcanic working groups and meet the special guests that will join us!
You can get your map and hand it back at Studio Tommaseo, in via del Monte 2/1, open from Tuesday to Saturday from 5pm to 8pm.
Thank you! and welcome to your Harbour for Cultures!