16 december 2018
of the squeeze it third edition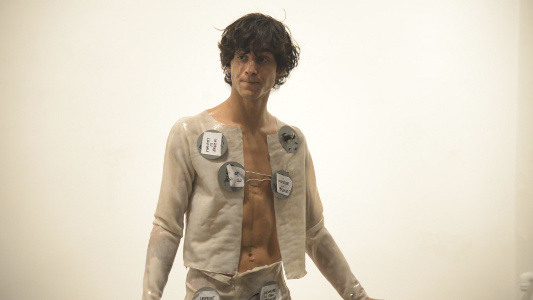 An extract taken from the performance Action – Evolution by Antonio Mayor Rey (photo Paola Pisani)
The winner of the Franco Jesurun Award 2018 is the Spanish Antonio Mayor Ray, 21.
In front of a large audience, the 2018 contest's jury, composed by Roberto Canziani, Giuliana Carbi Jesurun, Emanuela Marassi, Alessandro Marinuzzi, Roberto Paci Dalò, Bastien Poncelet and Janka Vukmir, decreed the winner on the final evening of Saturday 15 December at Studio Tommaseo in Trieste.
The major Award of SQUEEZE IT 2018 goes to the theatrical action Action – Evolution by Antonio Mayor Rey which prevailed over the other finalists' ones (Femminata by Clara Ingargiola and Valentina Ghelfi) and Bauhaus 100 (by Lilla Tóth and Johanna Eperke Kiss).
Antonio Mayor Rey will have the honour  to work in May 2019 to the video production of his theatrical proposal, planned by the organisers as the main award of the competition, with the great Polish artist Mirosław Bałka who accepted to be guest director of it.
Claire Froës is the winner of The SQUEEZE IT ONLINE AWARD with her video clip Untitled (Soloshow) that obtained the largest amount of online votes.
SQUEEZE IT is dedicated to Franco Jesurun, theater actor and gallery owner who founded the Studio Tommaseo and Trieste Contemporanea. The contest, biennal and established in 2014, is open to young under 30 European artists that conceive an original small-format theatrical action at the intersection of theatre, visual arts and information technologies.
The contest is organised by the Associazione L'Officina-Trieste, Studio Tommaseo-Trieste and Trieste Contemporanea; under the patronage of the Accademia Nazionale d'Arte Drammatica Silvio D'Amico-Rome; funded by the Regione Autonoma Friuli Venezia Giulia; in partneship with ArtSpace-Venezia, Etrarte-Udine, Institute for Contemporary Art-Zagreb, Vitamins of Society-Graz, vivacomix-Pordenone.
watch the video clip submitted to the competition by the artist as a demo of the first part (4′) of his theatrical proposal
associato al progetto: squeeze it contest