23 may 2020
live streaming on this page and on trieste contemporanea's facebook page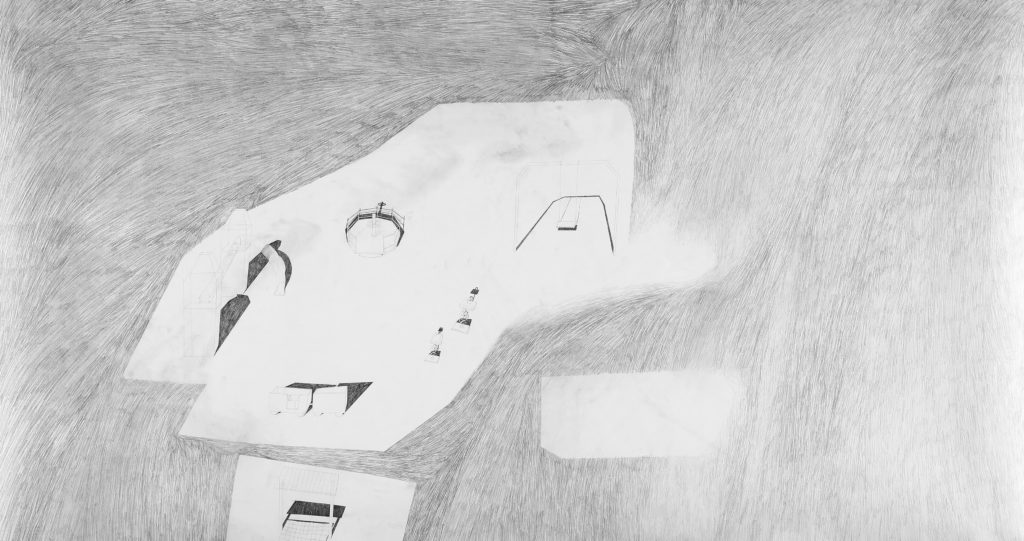 Teresa Mayr, Sp86316F1, 2018, pencil on paper, cm 82 x 146
The opening was broadcast exclusively online with a dialogue between the artist and the curator. You can review the inauguration by clicking here: https://www.youtube.com/watch?v=dth7Tcoed_A&t=351s
Studio Tommaseo is pleased to announce the opening of I don`t want to be an onager, a solo-show by German artist Teresa Mayr winner of the Young European Artist Award Trieste Contemporanea 2019. The exhibition, organised by Trieste Contemporanea, curator Daniele Capra, collects Mayr's recent works on paper which investigate urban spaces' development and their memory traces, as well as modifications and micro-changes that occur in areas where the public sphere and the intimate one overlap and intersect.
The opening of the exhibition will take place on Saturday 23 May 2020, at 6.30 pm, exclusively online, and will consist of a live streaming conversation between the artist and the curator: join us on Trieste Contemporanea's website or at our Facebook page.
From next week the exhibition will be regularly open to the public.  A catalogue, including images of displayed works, will be available for the finissage.
Teresa Mayr (Friedberg, D, 1992) studied at the Dresden Academy of Fine Arts, at the Burg Giebichenstein University of Art and Design Halle (Saale), at the Academy of Fine Arts in Munich and graduated from the University of Berlin in 2019. She lives and works in Berlin.
The Young European Artist Award Trieste Contemporanea is assigned every two years to an artist aged under 30 from a Central Eastern European country. The award gives to the winner the opportunity to conceive a new exhibition project and document it with a publication.
read more
visit the online exhibition