21 october 2020
wednesday 21 october at 7 pm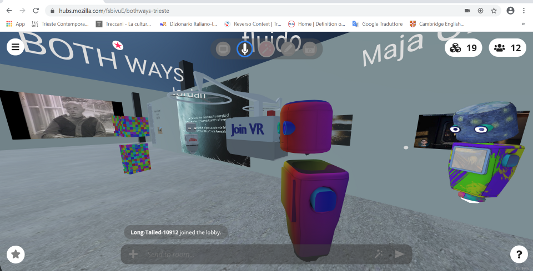 Trieste Contemporanea on 21 October at 7 pm offers a virtual guided tour of BOTH WAYS, the contemporary art exhibition presented in Trieste last September within the EuroScience Open Forum (ESOF2020)  and now available on bit.ly/bothwaystrieste.
BOTH WAYS was conceived in its different parts with a dual perspective and to relate to two fields of knowledge much more similar than it seems, art and science, and two spatial fields, real and virtual, whom relations have recently become much closer.
The occasion of 21 October is to recreate the atmosphere of the exhibition, together with the video designer and creative technologist Antonio Giacomin and the contemporary art curator Giuliana Carbi Jesurun, who will accompany visitors-avatars through the virtual spaces that hosts artists from Croatia, Hungary, Italy, Romania and Serbia.
The BOTH WAYS exhibition collects the experiences of a European project that Trieste Contemporanea started in March 2019 in partnership with the Central European Initiative (CEI) and the Trieste International Foundation (FIT) and co-produced with: University of Rijeka – Center for Innovative Media (CIM) at the Academy of Applied Arts (APURI) and Department of Mathematics (Croatia); Ludwig Museum-Museum of Contemporary Art and Hungarian Museum of Science, Technology and Transport, Budapest (Hungary); Scientifica, Cluj-Napoca (Romania); Center for the Promotion of Science (CPN), Belgrade (Serbia).
BOTH WAYS is supported by the Autonomous Region of Friuli Venezia Giulia, the Central European Initiative (CEI) and the Fondazione Internazionale Trieste (FIT).
Furthermore, the project is co-financed by KKT: Campus Creative Team, Rijeka 2020, European Capital of Culture, 27 Neighborhoods; UNIRI Projects (Rijeka): Interdisciplinary Research and Application of New Media Technologies in Virtual Reality Art; Department of Mathematics-University of Rijeka and The Elsevier Mathematical Sciences Sponsorship Fund (Croatia) | the Hungarian Ministry of Human Capacities (Hungary) | The Administration of the National Cultural Fund (Romania) | the European ARTificial Intelligence – AI Lab project (EU Creative Europe programme) and the Ministry of Culture and Information of the Republic of Serbia (Serbia).
Read more:
www.triestecontemporanea.it/event/both-ways/