from 2 to 8 September 2016
the exhibition and a videospritz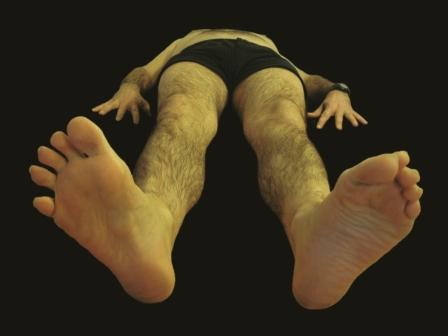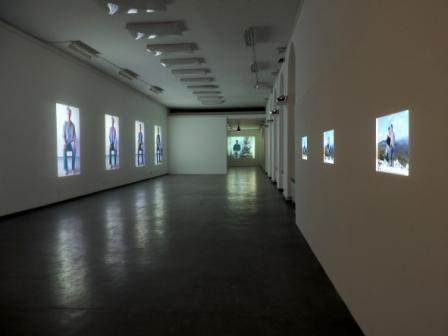 Alen Floričić, Untitled No. 02/05, 2005, video still.
A view of the show at the Museum of Modern and Contemporary Art, Rijeka.
Photo Alen Floričić.
After the summer break the Studio Tommaseo resumes with a special Trieste Contemporanea's Videospritz event. Friday, September 2 at 18.30 the Croatian videomaker Alen Floričić, in conversation with Sabina Salamon, curator of the Museum of Modern and Contemporary Art (MMSU) in Rijeka, will be the star of this traditional appointment with the international video art at the aperitivo hour, that Trieste Contemporanea organises since more than ten years.
The event will open Floričić's exhibition Video 1998-2016, which will be on display at Studio Tommaseo until September 8.
As curator Sabina Salamon says, from the very beginning of his involvement in video art, in the late '90s, Floričić uses a deliberately simple video language: the works are lasting only few minutes, featuring only one character – the author himself; they mainly consist of a single scene (the main character sitting in a room) or a single action (the protagonist emerging from the sea), repeated endlessly, without a beginning and an end. The impact is intense. The viewer is involved by the rhythm of the repetitions –intended as a cause of discomfort, doppelganger and fragmentation of the self, dysfunction of communication– the electronic image vibration, the lack of narrative and linear structure. The benevolent humor, which emerges as a side effect of funny gags, takes us deep into the shelters of the subconscious, into the unclassified aspects of the human being, finding echoed in the fact that Floričić avoids descriptions, titles and contents implications: the videos are all untitled, indexed by ordinal numbers and the years of creation.
The initiative is realized in collaboration with the MMSU who has organised a series of exhibitions by Floričić of which this in Trieste is the third one, that follows the shows in the Museum of Rijeka and at the ŠKUC Gallery in Ljubljana. At Studio Tommaseo it will be presented to the public a single large projection: Untitled No. 02/05, 2005.
Alen Floričić graduated from the University of Rijeka and earned a master's degree in Video and New Media at the Academy of Fine Arts and Design in Ljubljana. From 2008 to 2013 he was assistant professor at the Academy of Applied Arts in Rijeka and he is now professor at the School of Applied Arts and Design in Pula. He has exhibited widely including group shows at MoMA PS1 in New York, Kunsthalle Bethanien in Berlin and Renaissance Society in Chicago. In 2005 he was a Croatian representative at the 51st Biennial of Contemporary Art in Venice.
Trieste, Studio Tommaseo, via del Monte 2/1
opening times: Monday – Saturday, 17.00 – 20.00
free admission
Trieste Contemporanea–Dialogues with the Art of Central Eastern Europe
www.triestecontemporanea.it
info@triestecontemporanea.it
+39 040 639187