from 6 to 27 April 2019
opening saturday 6 april 2019 at 6.30 pm
ART IN THE SEVENTIES.
GALLERIA TOMMASEO 1974–1979
Rodolfo Aricò, Renato Barisani, Renate Bertlmann,
Paul Bowen, Luciano Celli, Manuel Chetcuti, Enzo
Cogno, Sanja Iveković, Maria Lai, Emanuela
Marassi, Fabrizio Plessi, Rudolf Schwarzkogler,
Livio Schiozzi, Mario (Piccolo) Sillani, Turi Simeti,
Edward Zajec, Alberto Zilocchi.
Trieste, Studio Tommaseo, Via del Monte 2/1
from 6th to 27th April 2019
opening on Saturday 6th April at 6:30 pm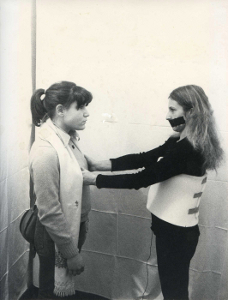 Trieste, 5th December 1977, Sanja Iveković, "Inaugurazione alla Tommaseo", (performance),
courtesy by Studio Tommaseo
Trieste, Italy: At Studio Tommaseo, from 6th to 27th April 2019, will be held the exhibition ART IN THE SEVENTIES. TOMMASEO GALLERY 1974–1979.  To celebrates the 45th anniversary of the "Galleria Tommaseo" which was born 45 years ago under Franco Jesurun's effervescent artistic direction, this exhibition showcases 1974 – 1979 art pieces and documents from Jesurun Collection and gives joyfully back the spirit of the first five pioneering years of this gallerist's activity – a tight sequence of very stimulating proposals and exhibitions of contemporary art which were often born from extremely daring curatorial projects (among them the collaboration with feminist artists Renate Bertlmann, Sanja Iveković and Emanuela Marassi) and not easily accessible in Trieste (and in Italy) in those years.
There will be on display works by Rodolfo Aricò, Renato Barisani, Renate Bertlmann, Paul Bowen, Luciano Celli, Manuel Chetcuti, Enzo Cogno, Sanja Iveković, Maria Lai, Emanuela Marassi, Fabrizio Plessi, Rudolf Schwarzkogler, Livio Schiozzi, Mario (Piccolo) Sillani, Turi Simeti, Edward Zajec, Alberto Zilocchi.  Also, a documentation will be shown both on main group exhibitions then organised («Grafica pop americana e inglese» /British and American Pop Art limited editions, «L.H.O.O.Q.», «Moltiplicazione» /multiplication, «Narrative Art», and on the solo-shows by Robert Adrian, Rosario Bruno, Linda Christanell, Mario Deluigi, Piero Dorazio, Urs Lüthi, Ian McKeever, Giorgio Morandi, Annibale Oste, Nino Ovan, Gino Pellegrini, Robert Rauschenberg, Carmelo Zotti.
The exhibition has been organised, curator Giuliana Carbi Jesurun, by Studio Tommaseo and Trieste Contemporanea, successors of pioneering Galleria Tommaseo, and has been funded with support from the Autonomous Friuli Venezia.