from 28 to 29 May 2015
four documentaries dedicated to visual art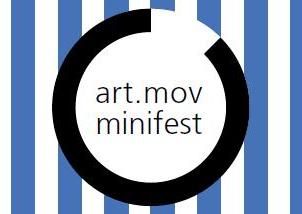 Studio Tommaseo
from 6.30 pm to 10.30 pm
curators Ruggero Calich and Virginia Dordei
promoted by Trieste Contemporanea
in collaboration with Studio Tommaseo
with the support of Regione Autonoma Friuli Venezia Giulia
Trieste Contemporanea proposes to the public who loves art and cinema a mini festival with a selection of four documentaries dedicated to the visual art.
The film critic and journalist Ruggero Calich, who lives and works in Smirne, with the young curator Virginia Dordei from Trieste, propose in this first appointment four new documentaries realized between 2014 and 2015. Some of which in Italian premier, the films have been launched at the most important documentaries festivals. Art.mov ranges from China to England, from Italy to Canada, with productions that touch very different artistic worlds and which are united by a continuous dialogue between past and present.
Special guest of the final day will be the Italian director Francesco Clerici, who will comment with the public of Trieste his film "Il gesto delle mani", FIPRESCI Prize at the 2015 Berlin Film Festival.
free admission
Studio Tommaseo
via del Monte 2/1
Trieste
PROGRAMME
Thursday, May 28th 2015
6.30 pm – Introduction by Ruggero Calich
6.45 pm – Finding Macpherson, Serge Ciguère, 2014, Canada, 77'
Finding Macpherson is, above all, the story of an improbable friendship between the great Quebec singer Félix Leclerc and the intriguing Frank Randolph Macpherson, a chemical engineer from Jamaica who arrived in Quebec in 1917 and would inspire Leclerc's song "MacPherson". It is also a story about memory: a memory of the song that would push animation filmmaker Martine Chartrand to create the striking and poetic animation MacPherson, made by filming paintings on glass using 35mm film. Chartand, while revisiting the story of Macpherson, discovering his past and meeting his friends and relatives, realizes to have shared with him the experiences of loneliness, racial isolation and stereotypes. This highly personal and historical journey is captured by Serge Ciguère, who accompanies Chartrand from the very start. A sympathetic look at an artist at work, Finding Macpherson is also a steadfastly humanist film that highlights the imperceptible but unbreakable links that bind us to each other.
8.00 pm – Mio Pang Fei, Pedro Cardeira, 2014, Portugal/Macao, 90'
Born in Shanghai in 1930's Mio Pang Fei was a witness to major social, political and cultural developments during 20th century in China. Early in his career he became interested in western contemporary art, passing through social realism. Forced to abandon western trends, throughout the cultural revolution, Mio Pang Fei devoted himself to 'officially accepted' art – Chinese calligraphy and traditional Chinese art. In Macau, he finally came to establish his own voice – a meeting of the Chinese tradition and western contemporary techniques he named neo-orientalism. Mio Pang Fei has gained widespread recognition and is now the most renowned Macau artist.
Friday, May 29th 2015
6.30 pm – 72-82, William Raban, 2014, UK, 60'
72-82 is a film by William Raban commissioned by Acme Studios, an association which since the 1972 helps artists making them available studios and rooms where live with affordable prices, as part of its fortieth anniversary celebrations, following the archive exhibition at Whitechapel Gallery, "Supporting Artists: Acme's First Decade (1972-1982)", that was held between september 2013 and february 2014. The film includes footage of performances and installations at the Acme Gallery documented by Raban, as well as extracts from his own films made at the time in East London. David Cunningham, who has created the sound for the film, was also part of this history. He was based at Acme's Acre Lane studios, Brixton, home to experimental rock bands This Heat and Cunningham's The Flying Lizards, and where a disused cold store was converted into a recording studio, 'Cold Storage'. Through the layering of this archive material 72-82 powerfully communicates this history and the spirit of that time, animated by the voices of artists and others who were part of the story.
8.00 pm – Introduction by Francesco Clerici
8.15 pm – Il gesto delle mani, Francesco Clerici, 2015, Italy, 77'
The documentary follows the creating process of a sculpture of the artist Velasco Vitali, from wax to bronze at the Fonderia Artistica Battaglia di Milano. It is an observation of a team of expert craftsmen at work in a centennial foundry. Their work reveals an unchanged technical culture: the investment casting, whose tradition dates back to the 6th century BC. A window on the contemplative work in the Fonderia Artistica Battaglia: a place where past and present share common gestures and in which each of these acts is itself a sculpture. The Italian sculptor Giacomo Manzu said that the sculpture is "a gesture of the hand, a gesture of love." This film is the film version of that phrase.