from 15 to 15 October 2016
starting at 6.30pm
Twenty Years Later
BridA artist collective in conversation with the curator Daniele Capra 
Saturday, 15 october, 18.30
Trieste, Studio Tommaseo, via del Monte 2/1
free admittance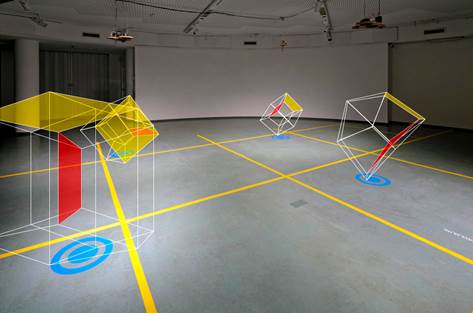 BridA, Interspace Module, 2015, installation
On the occasion of the XII edition of the Day of Contemporary Art AMACI, organised by the Association of Italian Museums of Contemporary Art, Trieste Contemporanea presents Twenty Years Later, a talk between BridA artist collective (Tom Kerševan, Sendi Mango e Jurij Pavlica) and the Italian curator Daniele Capra.  The conversation will focus on the most outstanding achievements of BridA's artistic research that started in 1996, when the group's members were students at the Academy of Fine Arts in Venice.
Their artistic work of studying the processes and roles in contemporary art and of analysing the principles of artistic collaboration and group working, often has included other artists, experts and creative minds.  Very active in the Slovenian art scene, they established numerous connections with universities and research institutes in Europe and the United States, where also they were guest lecturers and artists in residence.
BridA took part in international exhibitions and events among which the Triennale of Ljubljana and the Biennial of Graphic Arts of Ljubljana, the Abandon Normal Devices Festival in Grizedale (UK) and the Ars Electronica Festival in Linz (A).  Their works have been exhibited at MSUM and the Moderna Galerija in Ljubljana (SLO), the Kalmar Konstmuseum in Kalmar (S), the Galleria Tina Modotti in Udine, the Mestna Galerija in Nova Gorica (SLO), the Galleri Gro-Campus Allegro in Jakobstaad (FIN), the Blaffer Museum of Contemporary Art in Houston (USA), the University of Maine (USA), the Tate St. Ives (UK), the Fondazione Ratti in Como and the Fabbrica del Vapore in Milan (I).