from 23 April to 19 June 2014
young european artist award trieste contemporanea 2013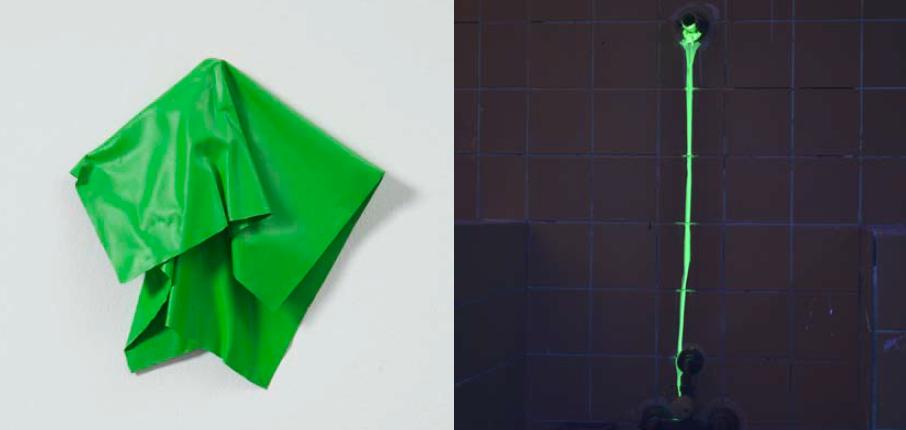 Johanna Binder / untitled (Green) / 30x28x2,5, acrylic / 2013 – Abel, Carlo and Max Korinsky / dripping / audiovisual installation / stattbad berlin / 2012
Opening Wednesday, the 23rd of April, 6:30 pm
On Wednesday the 23rd of April Trieste Contemporanea will open the Inter Spaces exhibition.
The show results from an unreleased collaboration of Johanna Binder and the group composed by Abel, Carlo and Max Korinsky.
These artists are the winners of the 2013 edition of the Young European Artist Trieste Contemporanea Award. For the first time in the history of the Award they are winners ex aequo, so unexpectedly they have been working together to the exhibition project that is the conclusive action of this competition.
Last November an international panel of judges awarded them, choosing the excellence of their two artistic paths among 250 and over portfolios by applicant artists aged under 30. Since 1999 this award has been assigned every year to a Central Eastern Europe young artist with the aim to promote his/her work on the European artistic overview, and has awarded young artists which then revealed themselves very interesting on the international art scene, for example Paweł Althamer from Poland and Ivan Moudov from Bulgaria.
The innovative two-men show related to the 2013 award will balance two styles and two different poetries and at the opening day we will discuss them together with the artists and with Daniele Capra, the Italian curator of the exhibition. We highlight that on the occasion of the Trieste Contemporanea award, the young Johanna Binder and Abel, Carlo and Max Korinsky, born between 1984 and 1985, will exhibit in Italy for the very first time.
Abel, Carlo and Max Korinsky are brothers. They live in Berlin and work together after the earning of a master in Sound Studies at the UDK- Berlin Art University (Abel and Carlo) and a degree in Painting at the Dusseldorf Academy (Max). Johanna Binder was born in Salzburg and graduated at the Academy of Applied Arts in Vienna.
The German group works on site specific technological projects and explores in particular the physical and emotional effect sound makes on audience when originating vertically. They will have to dialogue with the painting's formal features being tested by the Austrian painter that excludes the narrative and symbolical aspects of painting and focuses on medium.
The challenge of finding a post-conceptual match point between two different areas of perceptive experimentation lets thus us foresee at Studio Tommaseo in Trieste a very original show, extreme in energy and fascination, which will be on display till June 11th, 2014.