from 9 December 2022 to 17 February 2023
ninnananna (lullaby) is the Trieste solo show proposal by the Romanian winner of the Young European Artist Trieste Contemporanea Award 2021
curated by Daniele Capra
opening on Friday 9 December at 18.30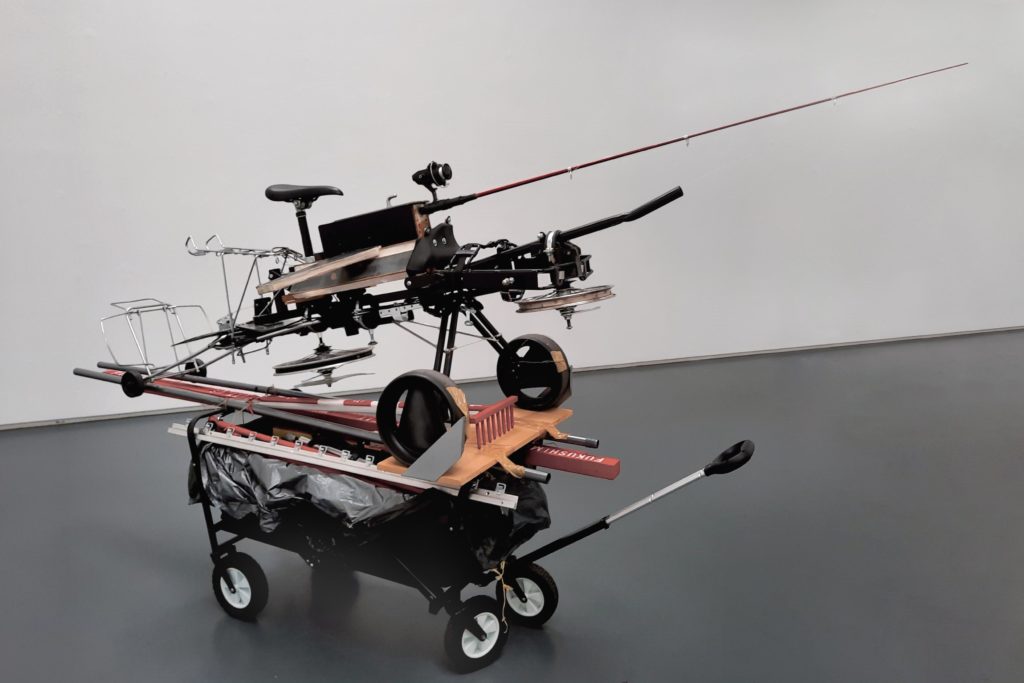 Luciana Tămaș, The Transporter Drone, 2021, wood, metal, plastic, rubber, variable dimensions
Studio Tommaseo is pleased to host ninnananna (lullaby), a solo exhibition by Luciana Tămaș, winner of the Young European Artist Trieste Contemporanea Award 2021. The exhibition, curated by Daniele Capra, is organised by the Trieste Contemporanea Committee under the patronage of the Consulate General of Romania in Trieste, and in collaboration with the Studio Tommaseo. It brings together a dozen recent works by the Romanian artist – essentially sculptures – that investigate the subtle boundary between the domestic objects we usually interact with and the competition/war devices designed to confront each other during a conflict. The title of the exhibition alludes, in a parodic way, to the aspects of gentleness and domestic comfort, places of intimacy only seemingly untouched by hostility. The exhibition is accompanied by a catalogue, which will be presented later including images of the works installed in the Trieste gallery.
Tămaș' works in the exhibition, made using recycled materials assembled in a DIY manner, highlight, in an ironic way, the offensive side hidden in the objects we use daily and in the most banal forms we interact with in our domestic life. Silicone tubes, metal clips, sack trucks, wooden scraps or fishing rods are combined together and deprived of their function, thus becoming ineffective (and playful) tools of war. The result is inoffensive missiles, harmless wooden machine guns or fake drones, built from scrap metal and totally incapable of flying: they are metaphors of a deaf progress, bent to the needs of war, and incapable of a truly humanistic technology.
Tămaș' artistic practice is in fact characterized by the use of assembly and installation with DIY and found materials, which are recombined in an a-functional key with a symbolic value. The artist moves from the technological imagery of flight, war and space exploration to create sculptures in which the form, often improvised, does not correspond to any real need. Her works do not represent or illustrate concepts, but instead allude to the limits of ordinary thought. Indeed, they serve as revealing tools that caustically highlight the subversive, often hidden potential inherent in the objects and tools of conflict in our lives. To their pervasive presence – psychological and real – Tămaș thus responds with a childlike, unexpected and impertinent question.
Luciana Tămaș (Satu Mare, RO, 1992) studied at the University of the Arts in Braunschweig (D), where she is currently completing her PhD at the Institute of Art History and Aesthetics. Her solo exhibitions have been hosted by institutions such as Städtische Galerie, Braunschweig; University of Art, Braunschweig; Art Museum, Satu Mare (RO); Jan van der Togt Museum, Amstelveen (NL); Dinu Lipatti Philharmonic, Satu Mare; and Kunsthandel Teunissen (NL). She lives and works in Braunschweig.
The Young European Artist Trieste Contemporanea Award is awarded, since 1999, every two years to artists under the age of thirty from Central and Eastern Europe whose research has distinguished itself for its particular significance. The award gives the artist the opportunity to conceive an unprecedented exhibition project as well as to document it with a publication.
Go to the previous editions of YEATC Award.