from 23 October to 11 December 2010
ninth international design contest trieste contemporanea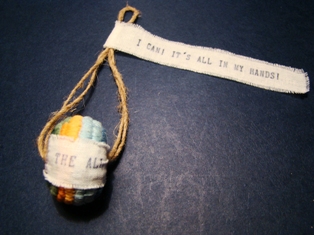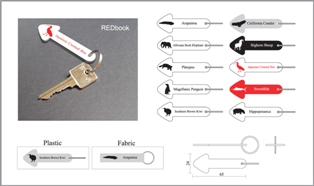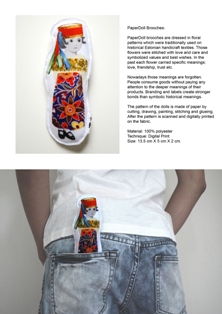 left: BEBA Award for the youngest selected designer: 'The All' by Ilya Choni, Ucraina, born 1998. CEI Award for the best designer from a CEI country not EU member: 'REDbook pendants' by Aliaksei Hur, Belarus. First 2010 Trieste Contemporanea Prize-Gillo Dorfles Award: 'PaperDoll Brooches' by Marta Kisand, Estonia.

At the Studio Tommaseo of Trieste from October 23 to December 11, 2010 are on display the 31 best projects selected among 329 competitors from 23 countries for the Competition POCKETLUCK, which called for a design of a new pocket lucky charm, an aid in facing the various difficult crises which afflict the world today with a positive attitude, courageous altruism and necessary irony.
The exhibition consists the projects by Matteo Beraldi (Italy), Boris Novachi Bojic (Austria), Giovanni Botticelli (Italy), Ivana Brajdic (Croatia), Carrot Group(Hungary), Ilya Choni (Ucraina, BEBA AWARD), Ender Gelgec (Turkey), Aliaksei Hur (Belarus, INCE AWARD), Ziva Ljubec (Slovenia), Malgorzata Lojko (Poland), Marta Kisand (Estonia, GILLO DORFLES AWARD), Knockoutdesign (Poland), Emanuele Magini (Italy), Francesco Magni (Italy), Tommaso Mandorino (Italy), Franz Maurer (Austria), Oloop Design (Slovenia), Przemyslav Ostaszewski (Poland), Nadine Podewski (Germany), Laura Pozzar (Italy), Louda Radim (Czech Republic), Dario Santacroce (Italy), Pavel Sidorenko (Estonia), Dorota Skalska and Agnieszka Mazur (Poland), Radim Slovak (Czech Republic), Claudia Sportelli (Italy), Devid Strussiat (Italy), Zoran Svraka (Croatia), Lenka Trubacova (Czech Republic), Adam Turecek (Czech Republic), Gianfranco Vasselli (Italy, hors concours), Nadia Vedova and Marco Svara (Italy).