from 15 July to 2 September 2021
a retrospective exhibition of the romanian british artist
on Thursday 15 July at 5 pm
in Trieste at the Studio Tommaseo (via del Monte 2/1)
opening of the retrospective exhibition by Paul Neagu (1938-2004)
opening speeches by Cosmin Victor Lotreanu and Gabriella Cardazzo
screening of performance film «Hyphen-Ramp (588 Riots at the Serpentine)», 1976, 31′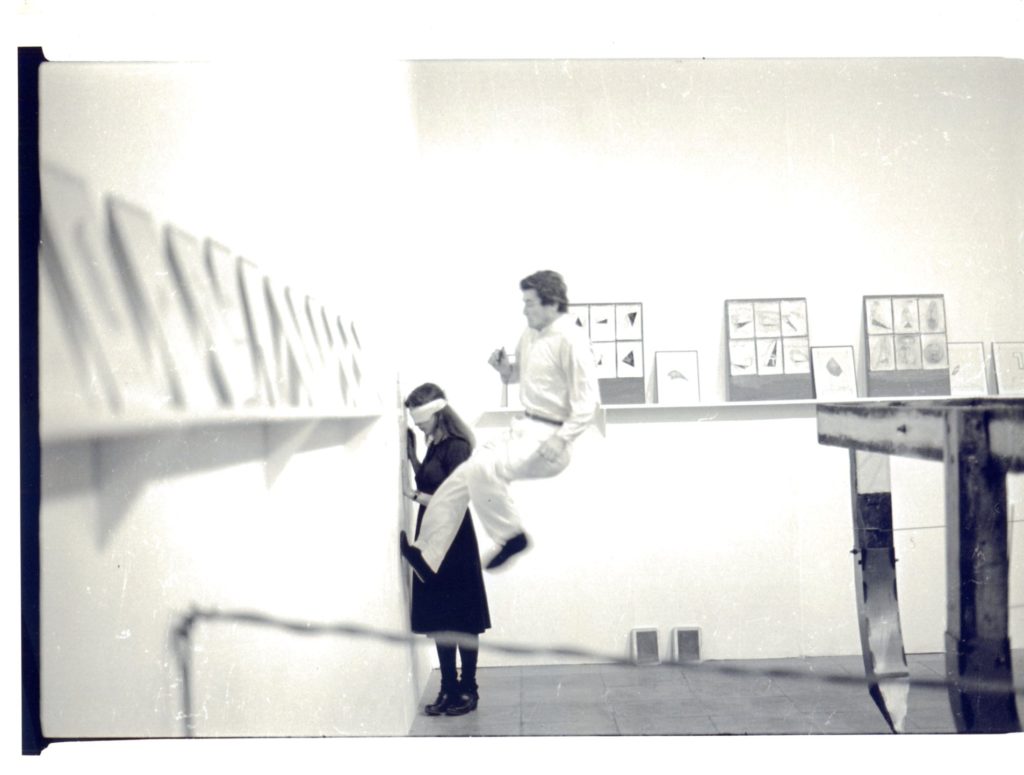 Photograph by Gabriella Cardazzo: Paul Neagu in a moment of his Hyphen-Ramp performance at the Serpentine gallery, London, 1976
Paul Neagu firmly believed that sight is not the only sense with which to encounter art – for him, taste, smell, touch and sound were just as important. He disrupted every assumption of what art could be. He made tactile boxes, edible sculptures, projects with fictional collaborators, and performances defying gravity. He conceived his exhibitions as experiments, while his writings spiralled through art history and philosophy. His works on paper were simultaneously preparatory works, documentation and independent artworks. Neagu was a generator of ideas, and he pulled on his experience and ambition to rethink the possibilities of sculpture and perception. (read full Tate entry by Lisa Le Feuvre, 2019).
Trieste Contemporanea's tribute to the great Romanian artist, sculptor, performer and teacher in London who influenced a generation of British students and artists (including Antony Gormley, Anish Kapoor and Rachel Whiteread) is curated by Gabriella Cardazzo and Giuliana Carbi Jesurun and displays works dated from 1971 to 1987. The exhibition is a co-production of Trieste Contemporanea with ArtSpace and MARe / Museum of Recent Art in Bucharest, in collaboration with The Paul Neagu Estate (UK) in London, the Ivan Galley in Bucharest and the Romanian Institute of Culture and Humanistic Research in Venice and under the patronage of the Consulate General of Romania in Trieste, displaying various works also from Italian collections.
On display in Trieste are works mainly from the 1970s, when Neagu began his British adventure, in which he pushed the boundaries of abstraction in sculpture while using the body as a medium for his performances or "ritual" events. His famous performance "Hyphen-Ramp (588 Riots at the Serpentine)", in 1976, was the subject of a film, now at the Tate London, which is screened in the exhibition.
Among the exhibited drawings created between 1971 and 1987, some are dedicated to Anthropocosmos, a term used by the artist to convey the individual human as a universe made of interrelating cells, and there is also a lithograph of his "Nine Catalytic Stations", derived from his Hyphen: a concept expressed in several works. "It preoccupied the artist through the 1980s to the time of his passing. This circle of nine sculptures, like all of Neagu's artworks, is a call to perceive with greater acuity and to think about how we humans understand our complicated place in the world. " (LLF)
An unpublished photographic section brings together Gabriella Cardazzo's photographs taken in the 1970s, when Neagu was often involved in the activities of the Galleria del Cavallino in Venice. Documentary materials of his research and exhibition activities accompany the Trieste retrospective open until 2 September.
"Like his great mentor, Constantin Brancusi, Neagu had to make a difficult emotional journey from Romania to the West", wrote Anish Kapoor in 2004, recalling the artist in The Guardian. Since the 1960s – his "Palpable Art Manifesto" dates back to 1969 – the artist has been proposing palpable objects or tactile boxes that deliberately invited touch (and commanded an intensely visceral response), made mostly out of wood and leather covered in gesso, which related them, according to Anish Kapoor, to the great tradition of Romanian wood work. After attending the Nicolae Grigolescu Institute of Fine Arts in Bucharest, he arrived in Britain in the 1970s (eventually becoming a British subject in 1977), at a time when there were very few artists working in a cross-cultural context. "Inevitably – Kapoor continued – he struggled against a British art world that preferred to see the artist as a maker of things rather than, as he saw it, art, and therefore the artist, as a generator of a philosophical world view". Neagu made physical his interest in philosophy (and in Steiner, Ouspensky and Gurdjieff, among others). In his first exhibition in Great Britain, in Edinburgh invited by Richard Demarco, he developed the idea of cellular objects. "As Neagu noted: a cell is both a prison and an 'energy centre, a place in which energy is conserved for future use'" (LLF). From these experiences the Generative Art Group was formed in 1972, encompassing five fictitious members, each representing a different part of his creative psyche. In 1975, Neagu made his first "Hyphen": it started life as a three-legged workbench assembled somewhat in the folk tradition of Romanian furniture (a drawing is displayed also in Trieste). Quickly Neagu understood the immense metaphysical potential of this tripod structure. From it he evolved – Kapoor wrote – a complete anthropocosmic view which, in parallel with Joseph Beuys in Germany and, previously, Yves Klein in France, suggested a spiritual remedy for the ills of contemporary man. This again went against British taste, but in its turn had a considerable influence on a generation of students.
He lectured for many years, first at Hornsey College of Art and then at Chelsea School of Art and Design. Anish Kapoor, one of his most famous students, stated that the vitality and inquisitive inquiry of the work from the 1970s and 1980s was to him, once again, an inspiration. Paul Neagu's sculptures, paintings, drawings and documentation of his performances are at the British Museum, the Tate and Victoria and Albert in London and at the Scottish National Gallery of Modern Art in Edinburgh, among others. Two of his public works are in Bucharest and Timisoara. A major retrospective of the artist's work is currently being held at the Kunstmuseum Liechtenstein until 5 September.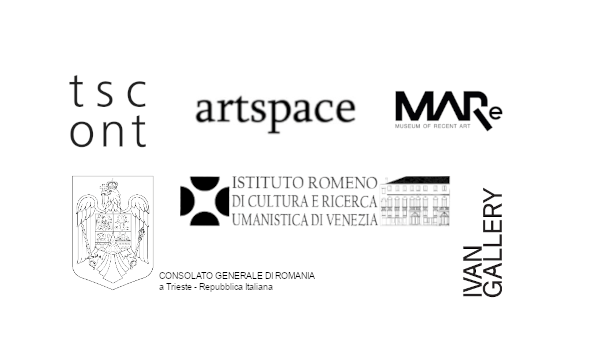 Paul Neagu
Trieste, Studio Tommaseo, via del Monte 2/1
from 15 July to 2 September 2021
retrospective exhibition of the Romanian/British artist Paul Neagu (1938-2004)
curators Gabriella Cardazzo and Giuliana Carbi Jesurun
a co-production Trieste Contemporanea | ArtSpace, Venice | MARe/Museum of Recent Art, Bucharest.
under the patronage of the Consulate General of Romania in Trieste.
in collaboration with The Paul Neagu Estate (UK), London | Ivan Galley, Bucharest | Institutul Român de Cultură şi Cercetare Umanistică, Venice.
free admission subject to availability
exhibition opening hours Tue-Fri from 5 pm to 8 pm
info: info@triestecontemporanea.it | www.triestecontemporanea.it
the Tate's paper, by Lisa Le Feuvre, 2019
the obituary of "The Guardian", by Anish Kapoor, 2004
the retrospective exhibition at the Kunstmuseum Liechtenstein (open until 5 September)