from 18 to 18 April 2018
dedicated to franco jesurun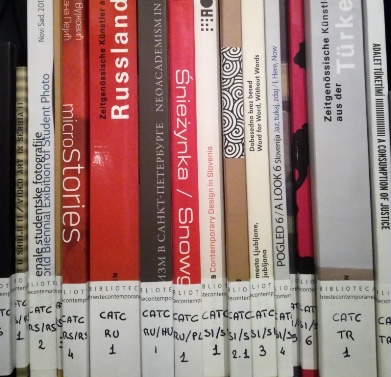 Wednesday 18th of April at 6:30 pm, a little opening ceremony will officially initiate the activities of the new Trieste Contemporanea's Library, mainly focused on the art of 20th and 21st centuries, with a special attention for Central Eastern European contemporary art, and dedicated to Franco Jesurun, a professional artist of the theatre and founder of the L'Officina, the Studio Tommaseo of Trieste and the Trieste Contemporanea Committee.
The collection, of almost 8000 volumes in process of cataloguing, is divided in 9 section and gathers works of contemporary art, photography, comics, cinema, art criticism and aesthetics, artists' monographs, museum and exhibition catalogues. It also includes works about theatre, music and literature and describes the 20 years of activity of the Trieste Contemporanea Committee that, through collaborations and exchanges in an international level, has permitted to collect books of extraordinary interest in the art field and in the contemporary culture of Central Eastern Europe, from the Nineties to today. The catalogue is available on-line on OPAC SBN (On line Public Access Catalog of National Library Service) and on BiblioEst. The library is open from Tuesday to Friday from 17 to 20 in via del Monte 2/1.
In program for the opening the participations of Fabrizio de Castro, responsible of Polo TSA of the National Library Service, Elettra Maria Spolverini responsible of the Trieste Contempranea's Library and Giuliana Carbi. In this occasion, Dubravka Cherubini will present the volume Breda's Lesson edited by Trieste Contemporanea and Juliet Editrice in april 2018, that collects the acts of the first international symposium dedicated in 2017 to the artist and filmmaker Breda Beban.