from 15 to 15 February 2008
breda beban presents the IAA project and the albanian artists denis hyka and violana murataj
trieste, studio tommaseo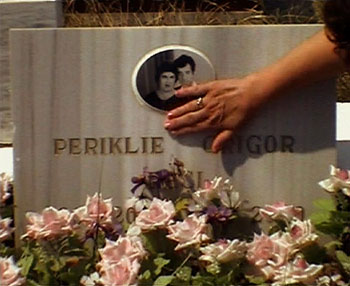 First 2008 videospritz appointment , Friday 15th February 2008 at 7pm
Screening of Finding Grandma's Garden (read more)
Presentation of imagine art after
curator Dubravka Cherubini
Curated by Breda Beban, imagine art after is a multi-stage contemporary art project for gallery, internet and television that employs an innovative approach to curatig. Bringing together artists who left their home countries and now live in London with artists who stayed, imagine art after explores the insecurities triggered by the tension between migration and the social and geographical sense of the local.
The project began on Guardian Unlimited with an online dialogue between the selected pairs of artists from Afghanistan, Albania, Ethiopia, Iran, Iraq, Nigeria and Serbia. Following the dialogue, the artists were invited to submit proposals for new work, either alone or together with their counterpart. Several works were subsequently commissioned, with the imagine art after inaugural exhibition taking place at Tate Britain from 5 October 2007- 6 January 2008. The work exhibited reflects the profound impact participating in imagine art after had on the artists.
The curatorial approach taken by imagine art after lead curator & creative producer Breda Beban expands on her independent filmmaking practice where, in the process from script to screen, each stage is a result of the previous stage. When translated into art project design, this enables the artists to collaborate with each other and the curatorial team in evaluating and articulating each stage, producing a non-static project where art works are not employed as illustrations of the authorship of the curator. Beban aims at developing strategies that allow for a departure towards representations of something that is strongly felt on the edges of big stories about politics, geography ad love.
imagine art after
is an ongoing project that continues after 2007 with a new edition.
For more information visit www.imagineartafter.net
videospritz #3
a Trieste Contemporanea production in association with Continental Breakfast project
with the participation of Casa dell'Arte Trieste
supported by Regione Autonoma Friuli Venezia Giulia
sponsor Enoteca Bere Bene Trieste