from 2 May to 3 July 2019
a solo show by mirosław bałka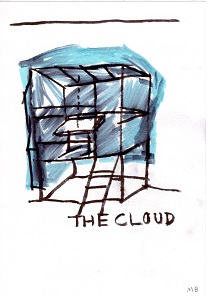 Mirosław Bałka, The Cloud, 2018, ink on paper
courtesy of the artist and Galleria Raffaella Cortese
Trieste Contemporanea is pleased to announce that the next appointment of the Harbour for Cultures project will be "Wasserzeichen. Drawings for the Harbour for Cultures", a solo-show by the great Polish artist Mirosław Bałka.
The exhibition will open at Studio Tommaseo in Trieste, on Thursday 2 May at 6.30pm., in the presence of the artist.
THE HARBOUR FOR CULTURES PROJECT.
Conceived by Trieste Contemporanea as a contribution to the discussion on possible visions for the conversion and reuse of the Old Port of Trieste and as an interdisciplinary research of desires about new future cities, "Harbour for Cultures" has already involved last year curators, designers, philosophers and citizens. The important involvement of Mirosław Bałka to this progressive and participatory project now opens a series of solo-show contributions by European visual artists, which will continue throughout 2020.
BAŁKA AND THE SQUEEZE IT CONTEST.
Bałka will also be working in Trieste as a guest director for the Franco Jesurun 2018 Award. The young Spaniard Antonio Mayor Rey will work with him to produce a video work based on the theatrical action "Action – Evolution" with which Mayor Rey won, December 2018, the last edition of the SQUEEZE IT competition. In this role Mirosław Bałka joins Adrian Paci and Dalibor Martinis, guest directors of the two previous editions of the competition promoted by Trieste Contemporanea at the intersection of theatre, visual arts and information technology.
These new Bałka's collaborations with Trieste Contemporanea are co-funded by the Regione autonoma Friuli Venezia Giulia, and are in continuity: its first exhibition in Trieste, "Chocolate Grinder n.3" (together with Etty Abergel and Alfredo Pirri), and his participation in the "Out of the West" round table date back to 2005 .
THE EXHIBITION.
With "Wasserzeichen" exhibition Mirosław Bałka offers the Harbour for Cultures project a powerful selection of drawings that will be on display in Trieste until 3 July.
They are drawings not by chance: they respond coherently – not by direct representation, but by suggestion of memory – to the ideal request of HC project forwarded to Bałka by exhibition curator Giuliana Carbi Jesurun.
They are 42 small sheets made for Trieste between 2017 and today, to which are added some 2016 thematically relevant sketches.
If you scroll through the titles of works – i.e., Spine reconstruction, 2019; Keeping time by clapping, 2018; Shit above GOOD, 2018; After collision with the Absolut, 2018; Limits are, 2018; Convergent perspective, 2017; NOTHING, 2018; VOICES, 2018; Catching sun ray, 2019; The Truth, 2017 – it is clear that these drawings by "sculptor" Bałka are always first and foremost a "thought process". Thus defined Allegra Pesenti, in 2015 (in the catalogue of his last great Polish retrospective at the Muzeum Sztuki in Łódź), this particular type of artistic production, very dear to Mirosław Bałka, being the closest to his original interests, the body and the gesture:
"The exhibited drawings are made on sheets of A5 paper (210X148 mm), which is slightly smaller and more manageable than classic A4 sheet and linked his practice to the writing of a book or to a diary-like form of daily documentation. In fact, to call these preparatory drawings would be incorrect as they relate more to his thought process than to the specifics of the sculpture."
The "HC thought process" drawings for Trieste therefore exemplarily represent the essence of Bałka's artistic work which he himself explains in an interview in 2017:
"I treat the artwork as a process of exchange, between me and the others, when I do something I bring it to the space – this is like a lost luggage, I brought my luggage, I leave it and then somebody else can come and can pick it up and use it, open it after coming home or on the bench in the station and look at it."
THE ARTIST.
The Polish artist, after his debut in the Eighties, in the following decade received an immediate and unanimous international recognition for the coherence and evocative power of his artistic research. Starting from traditional sculpture, he increasingly goes towards abstract forms, he increasingly, from autobiographical notes, extracts "symbolic traces of existence", constant "memory of presence" (Anda Rottenberg).
This synthetic visionary force is prompted by his reflection on history which, from the special visual angle of Poland, can question the nature of man and the individual and collective memory with a denser responsibility. He translates it into an inventory of universal forms, materials and references, which Bałka makes available to everyone's consideration and "precipitates" into a very effective use of materials, such as wood, concrete, plaster or – more metaphorical ones – salt, soap and ash.
An answer to Maria Rosa Sossai who, on the occasion of the great 2017 Italian retrospective at the Pirelli HangarBicocca space, asked him for "Artribune" if his was "a way of sharing knowledge and making participants active in the creative process", turns out emblematic:
"I don't think that the creative process is just a matter of knowledge. I think it has to do with the not knowing, with the mystery of sharing, with question marks and doubts. The term knowledge therefore does not move forward together with my art, which is rather a bonding to what is unknown and a search for possible answers during this journey of sharing".
Mirosław Bałka was born in 1958 in Warsaw, Poland. He lives and works in Warsaw and Otwock. He is a sculptor also active in the field of experimental video and drawing. In 1985 he graduated from the Academy of Fine Arts in Warsaw, where since 2011 he has run the Studio of Spatial Activities in the Faculty of Media Art. Between 1986 and 1989 together with Mirosław Filonik and Marek Kijewski he established the artistic group, "Consciousness Neue Bieremiennost". In 1991 he was awarded the Mies van der Rohe Stipend by Krefeld Kunstmuseen. He is a member of Akademie der Kuenste, Berlin.
Mirosław Bałka has participated in major exhibitions worldwide including: Venice Biennale (1990, 2003, 2005, 2013; representing Poland in 1993), documenta IX, Kassel (1992), Sydney Biennale (1992, 2006), The Carnegie International, Pittsburgh (1995), Sao Paulo Biennale (1998), Liverpool Biennial (1999), Santa Fe Biennale (2006). In 2009 he presented the special project How It Is for the Unilever Series, Turbine Hall, Tate Modern, London. He is the author of the Memorial to the Victims of the Estonia Ferry Disaster in Stockholm (1997), and numerous spatial works including AUSCHWITZWIELICZKA, Cracow (2010), and HEAL, University of California, San Francisco (2009). A series of conversations between Mirosław Bałka and professor Zygmunt Bauman were published in 2012. In 2015 the artist created the stage design for Paweł Mykietyn's Magic Mountain opera. He has participated in panel discussions with many distinguished speakers including Juan Vicente Aliaga, Julian Heynen, Anda Rottenberg, Kasia Redzisz, Anja Rubik, Joseph Rykwert and Vicente Todoli.
In 2015 the exhibition Nerve. Construction at the Muzeum Sztuki in Łódź initiated a series of three large individual exhibitions. They were an attempt at a retrospective of the past thirty years of Bałka's creative work. Subsequent exhibitions have taken place in 2017: CROSSOVER/S in Pirelli Hangar Bicocca in Milan and DIE SPUREN in Museum Morsbroich in Leverkusen.
Earlier selected solo shows include: Freud Museum, London (2014); Centre for Contemporary Art, Vinzavod, Moscow (2013); Akademie der Kuenste, Berlin, Center for Contemporary Art, Warsaw (both 2011); Museo Reina Sofia, Madrid, Staatliche Kunsthalle Karlsruhe (both 2010); Museu de Arte de Sao Paulo, Museu de Arte Moderna Rio de Janeiro (both 2007); Kunstsammlung Nordrhein Westfalen K21, Duesseldorf (2006); Museum of Contemporary Art, Strasbourg (2004); Zachęta – National Gallery of Art, Warsaw and SMAK, Gent (both 2001); National Museum of Art, Osaka (2000); Museu Serralves, Porto (1998); Museet for Samtidskunst, Oslo (1997); Tate Gallery, London (1995); The Lannan Foundation, Los Angeles (1994); Van Abbemuseum, Eindhoven, Renaissance Society – University of Chicago (both 1992).
Balka's works are in numerous permanent collections including: Tate Modern, London; Van Abbemuseum, Eindhoven; MOCA, Los Angeles; SFOMA, San Francisco; MOMA, New York; Hirshhorn Museum, Washington DC; Art Institute, Chicago; The Carnegie Museum of Art, Pittsburgh; Museu Serralves, Porto; Moderna Museet, Stockholm; Kiasma, Helsinki; Kroller Muller, Otterlo; The National Museum of Art, Athens; The National Museum of Art, Osaka; The Israel Museum, Jerusalem; Tel Aviv Museum of Art; Collection Lambert, Avignon; Middelheimmuseum, Antwerp; Fundación Botín, Santander; Museum of Contemporary Art, Zagreb. In Poland his works are in the collections of: Muzeum Sztuki, Łódź; Centre of Contemporary Art, Warsaw; Zachęta – National Gallery of Art, Warsaw; Museum of Modern Art, Warsaw; The National Museum, Wroclaw; MOCAK, Cracow; Labirynt, Lublin; Arsenał, Białystok.
artist MIROSŁAW BAŁKA
title WASSERZEICHEN.DRAWINGS FOR A HARBOUR FOR CULTURES.
curator GIULIANA CARBI JESURUN
organiser TRIESTE Contemporanea
co-funder REGIONE AUTONOMA FRIULI VENEZIA GIULIA
type of activity SOLO-EXHIBITION
OPENING Thursday 2 May at 6.30pm
DURATION from 2 May to 3 July 2019
VENUE Trieste, Studio Tommaseo (via del Monte, 2/1)
OPENING HOURS Tue.-Sat. 5-8pm
ADMITTANCE free
INFO info@triestecontemporanea.it + 39 040 639187