8 march 2008
eva ch. nilsen and giampaolo penco join the festival of montr�al
We are glad to inform you that the video "Eye of the Beholder. Artscape Nordland", by Eva Ch. Nilsen and Giampaolo Penco, will participate to the 26° FIFA-Festival International du Film sur l'Art of Montréal (Canada), one of the main international festivals which promotes art film production and fosters the works of artists and professionals belonging to the field of cinema, television and video-making.
The documentary, presented last year at the VIDEOSPRITZ#2 – International Video Art Presentation organized by the Committee Trieste Contemporanea, will be displayed in Montréal Wednesday 12th March at 9.30pm at the Musée d'Art Contemporain and Sunday 16th March at 4.30pm at the OFN.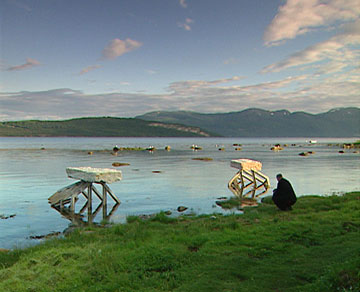 "Eye of the Beholder. Artscape Nordland" (a Rampleys and Videoest production) is a reportage, complete with interviews, about one of the most interesting art displaying projects of the last ten years, ended in 1998: 33 Norwegian municipalities commissioned to 33 international artists (Tony Cragg, Luciano Fabro, Dan Graham and Antony Gormeley, just to name a few) 33 landscape sculptures, creating a public collection on a 40,000 square meters surface.
for further information visit: http://www.artfifa.com/index.php?option=com_film&task=view&id=956&Itemid=408