20 march 2013
musical for the senses
Photon – Centre for Contemporary Photography
Trg prekomorskih brigad 1, Ljubljana
opening Friday, 22 March 2013 / 8pm
Breda Beban (1952-2012) was one of the most prominent personas in the field of contemporary arts in former Yugoslavia who – in past 20 years – lived and worked internationally, mostly based in London and Sheffield. The Musical for the Senses solo show in Photon (Ljubljana) brings together selected works from her recent creative period, between 1997 and 2012. Beban's works are devoted to several aspects of everyday life: migration, socio-political circumstance, human relationship and love.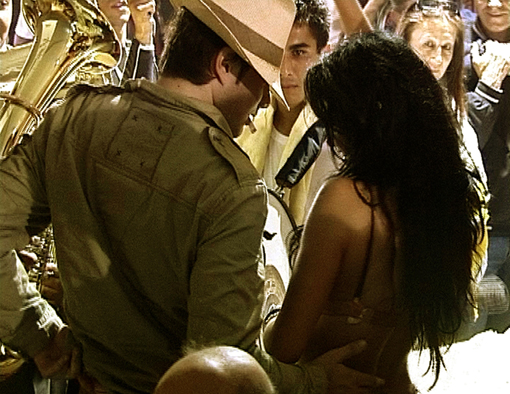 Breda Beban, The Most Beautiful Woman in Gucha, video still, 2006
The Musical for the Senses exhibition displays a selection from an extensive body of work where Breda Beban focused on the themes and phenomena of ordinary life; ones that usually take place in the privacy and intimacy of a personal space but are at the same time inevitably related to the coinciding political, social and cultural reality of their immediate surroundings. Selected films, which narrate non-linear stories about interpersonal relationships, little intimacies and big (although maybe fleeting) loves, are closely related to music that has been a consistent and omnipresent companion of the artist who often said: "Whenever I want to move people without upsetting them, I use music." The photographs from the Arte Vivo series are focused on couples in love, positioned in the public sphere – a place symbolically chosen by the portrayed – while performing the intimate act of kissing, an ultimate expression of tenderness and closeness. The artist thus exalts the power of love and the chemistry between two human beings.
"These works display an intimate perspective of wider socio-political situations and their immediate manifestations within the lives of common people, usually the artist's fiends and acquaintances. Thus, Breda Beban has always depicted the world she knew and was familiar with. Her creative force was manifested in the concise identification of non-verbal communication in her surroundings and excellent personal characterisation of individuals which she managed to transfer into the specific visual form. Human faces and bodies represent an outstanding geography of meanings with numerous variations that obscure the secretive and non-ascertained psychology of every human being." (Miha Colner)
Breda Beban (1952-2012) was an artist, filmmaker and curator whose work deals with contemporary notions of subjectivity and emotion that occur on the margins of bigger stories about geography, politics and love. Her films and photographs are recognisable by their unique expressions of intimacy, vulnerability and authenticity.
The exhibition in Photon – Centre for Contemporary Photography is realised in collaboration with Kalfayan Galleries (Athens & Thessaloniki) and Trieste Contemporanea (Trieste).
Supported by Ministry of Education, Science, Culture and Sport of Slovenia and Mestna občina Ljubljana
Partners: Trieste Contemporanea & Kalfayan Galleries
Acknowledgements: Boško Beban, Giuliana Carbi, Dubravka Cherubini, Branko Franceschi
On show until 30 April! gallery hours: weekdays from 12 to 6 pm