26 january 2019
exhibition two: from 26 january to 7 february, 2019
ERICK DEROOST
MAŁGORZATA DMITRUK
DIEGO ESPOSITO
KATJA FLEIG
LAURE KEYROUZ
SONIA SQUILLACI
GIAN CARLO VENUTO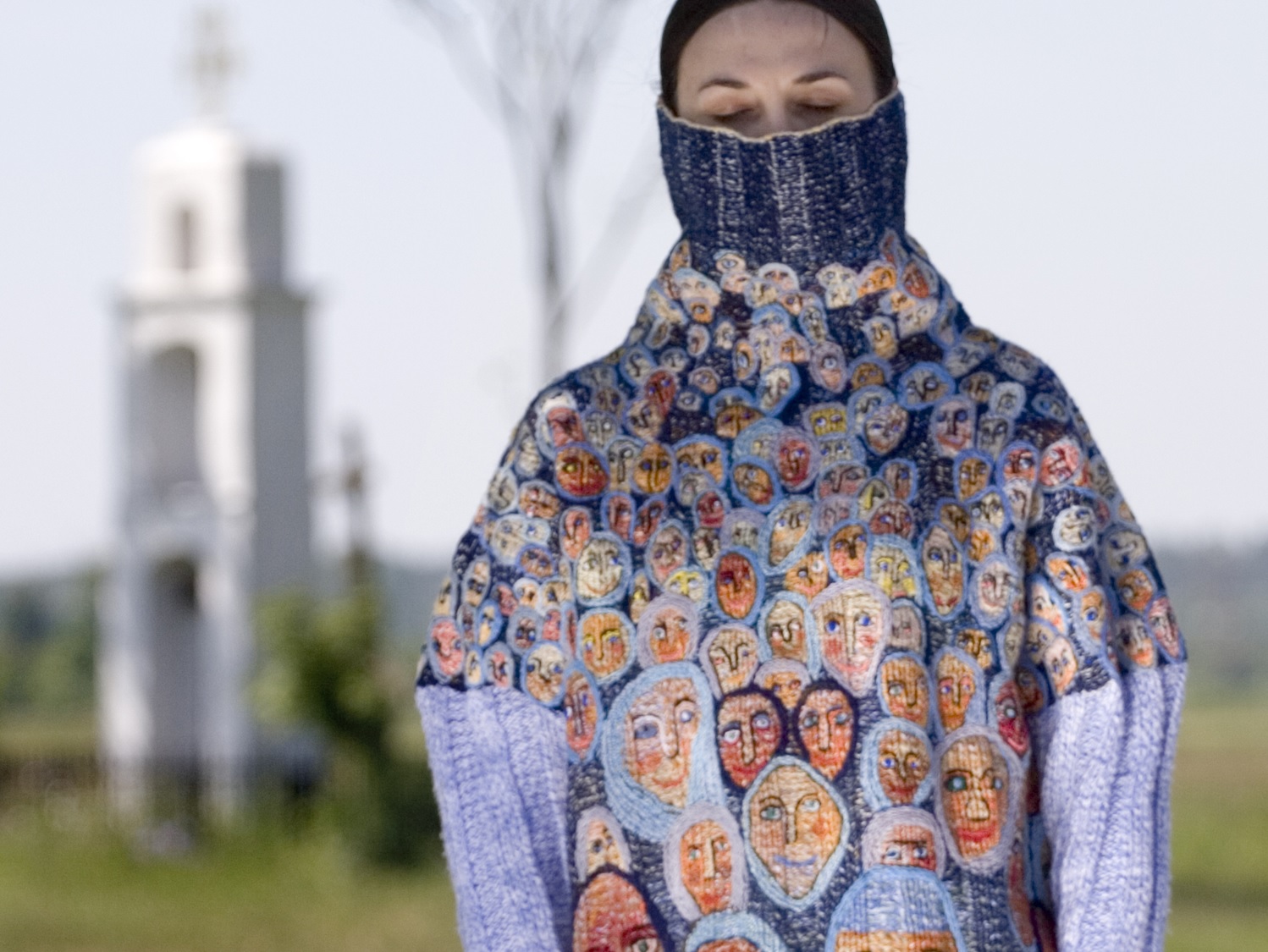 MAŁGORZATA DMITRUK
untitled, 2001
wood, acrylic, anitex
I mix the wool that I recover from the clothes of different people, relatives and strangers. I mix clothes, skirts, sweaters, shirts, blouses. I combine thoughts, time and memories of those days and people. I put together the previous lives of clothes worn by my mother, aunts and grandmothers, and people I do not know in a single sweater. I give them a new life. I combine the past with the here and now. (Małgorzata Dmitruk)
Małgorzata Dmitruk (Bielsk Podlaski, Bialystok district, 1974), graphic artist, painter, illustrator, fashion designer and scenographer. After studying at the Belarusian State Academy of Arts in Minsk, she graduated in 1999 from the Academy of Fine Arts in Warsaw. She received her PhD degree in 2007 and a post-doctoral degree in art in 2013. She teaches at the Academy of Fine Arts in Warsaw. From 2002-2014 she was an assistant, and then promoted to senior lecturer in 2011 at the Faculty of Graphic Arts. Since 2014, she has been running the Studio of Relief and Intaglio Printing at the Faculty of Sculpture. She has received many awards for her work: Grand Prix Warsaw Graphic Competition, 2000 and 2001; Grand Prix Daniel Chodowiecki National Competition, Gdansk, 2006; Scholarship of the Young Poland Programme of the Minister of Culture and National Heritage, 2008. Her work has been shown in Poland and abroad in more than 50 solo shows and over 100 group shows.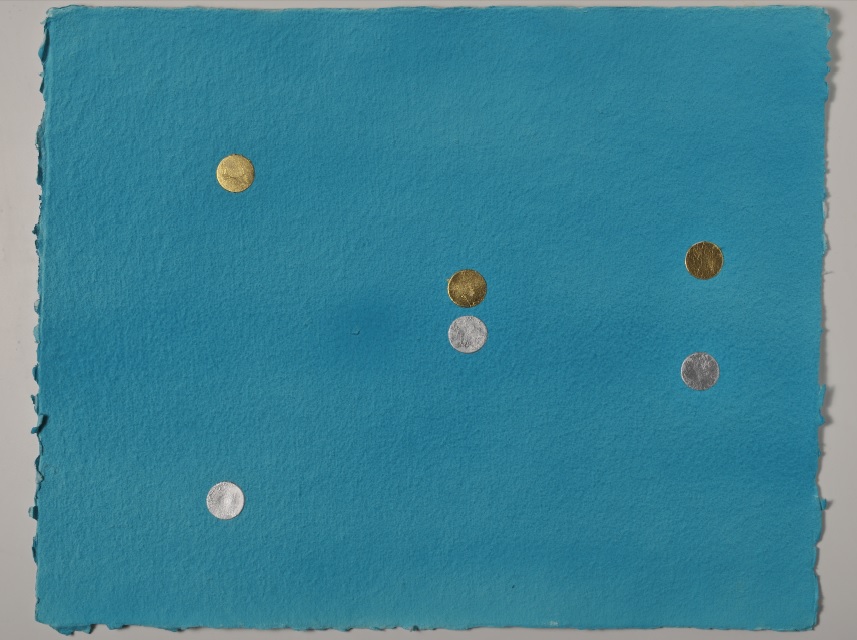 DIEGO ESPOSITO
untitled, 2018
drawing and collage on paper
A map with an Earth constellation and a Celestial constellation in search of an orientation of the self by imagining the umbilical cord that once united these two realms in a Cosmic Brotherhood. The active view by a non-limiting gaze. A terrestrial and a cosmic map at the same time: to see the Universe and become one. A spiritual path. (Diego Esposito)
Diego Esposito (Teramo 1940) lives and works between Milan and Venice. His sculptural works, starting from the project-in-progress "Longitude / Latitude" began at the Center for Contemporary Art Luigi Pecci in Prato, Italy (2001), have been installed at the Museo Emilio Caraffa, Cordoba, Argentina (2010), at the Centro Cultural Ccori Wasi, Lima, Peru (2011), at the Muryokoin Temple, Japan and at the École supérieure d'art et de design Marseille, France (2015), at the Giorgio Cini Foundation, Island of San Giorgio Maggiore, Venice, Italy (2016); at the University of Teramo, Italy, and in Satka, Russia (2018).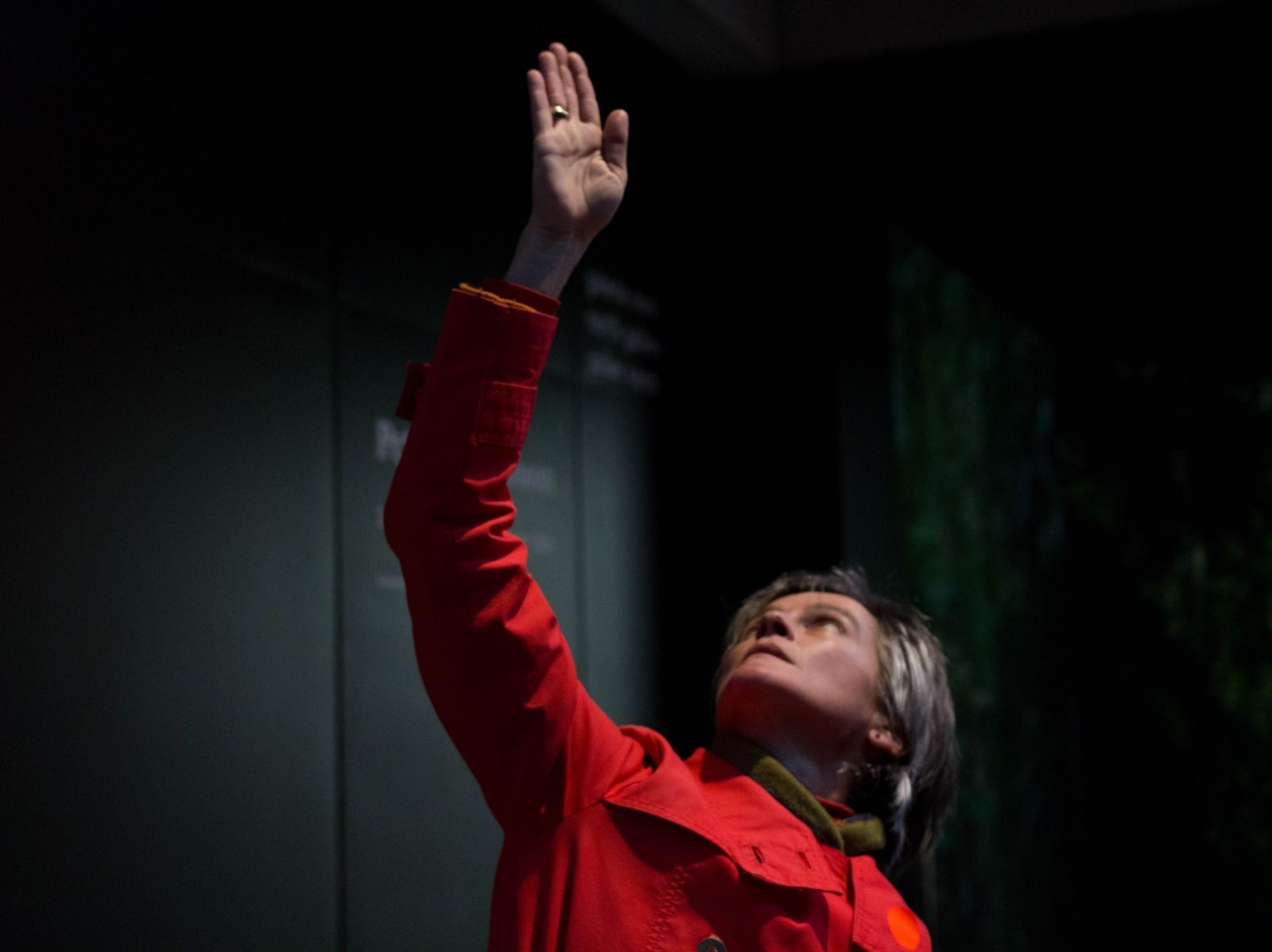 KATJA FLEIG, ERICK DEROOST
Fusion Two, 2012
video, 14' (artist: Érick Deroost; dance: Katja Fleig / enCo.re;
video shooting and editing: Philippe Lucas)
We are in a foundry in the Loire-Atlantique, an extraordinary landscape for a choreographer. The dedicated workers are focused on the glowing-hot metal while the artist improvises a dance performance. Their parallel worlds and movements meet in a singular "pas de deux" that brings out the richness of differences between the identities of a worker and an artist. These identity differences bind humans to one another.
Erick Deroost, lives in Rennes. He is interested in the duality of nature and culture. Over the last ten years, alone or in collaboration with other visual artists and architects, he has realised installations exploring the relationship of people living in a city with the environmental issues. To raise citizens' awareness on domestic waste sorting and sustainable development, he was commissioned to realise 5 monumental installations in 5 municipalities located south of Rennes. Other sculpture-installations have dealt with the themes of recycling and energy saving.
Katja Fleig, German-born choreographer and dancer, created her enCo.re company in 2003 in Rennes and has developed an interdisciplinary creation process, working a dozen pieces in collaboration with: choreographers, dancers, actors, musicians, writers, video artists, visual artists, translators, DJs. Since 2008, the relationships and exchanges between the artist and the public have been at the centre of her research, of which some examples are the "KF née en Février" and "CKF" performances for public spaces, and the "Visite chorégraphique" project, tailored to 15 specific public sites. She collaborated with director Alexander Kutchevsky in the "Blockhaus" theatre-landscape project. The performances "Enjeux associés" were realised in 8 locations in Brittany in connection with the works of artist Robert Schad. Together with Gilles Amalvi and Julie Seiller, she is now working at "Engelsam, en jeu", a dialogue with Paul Klee's 1939-40 drawings with angels.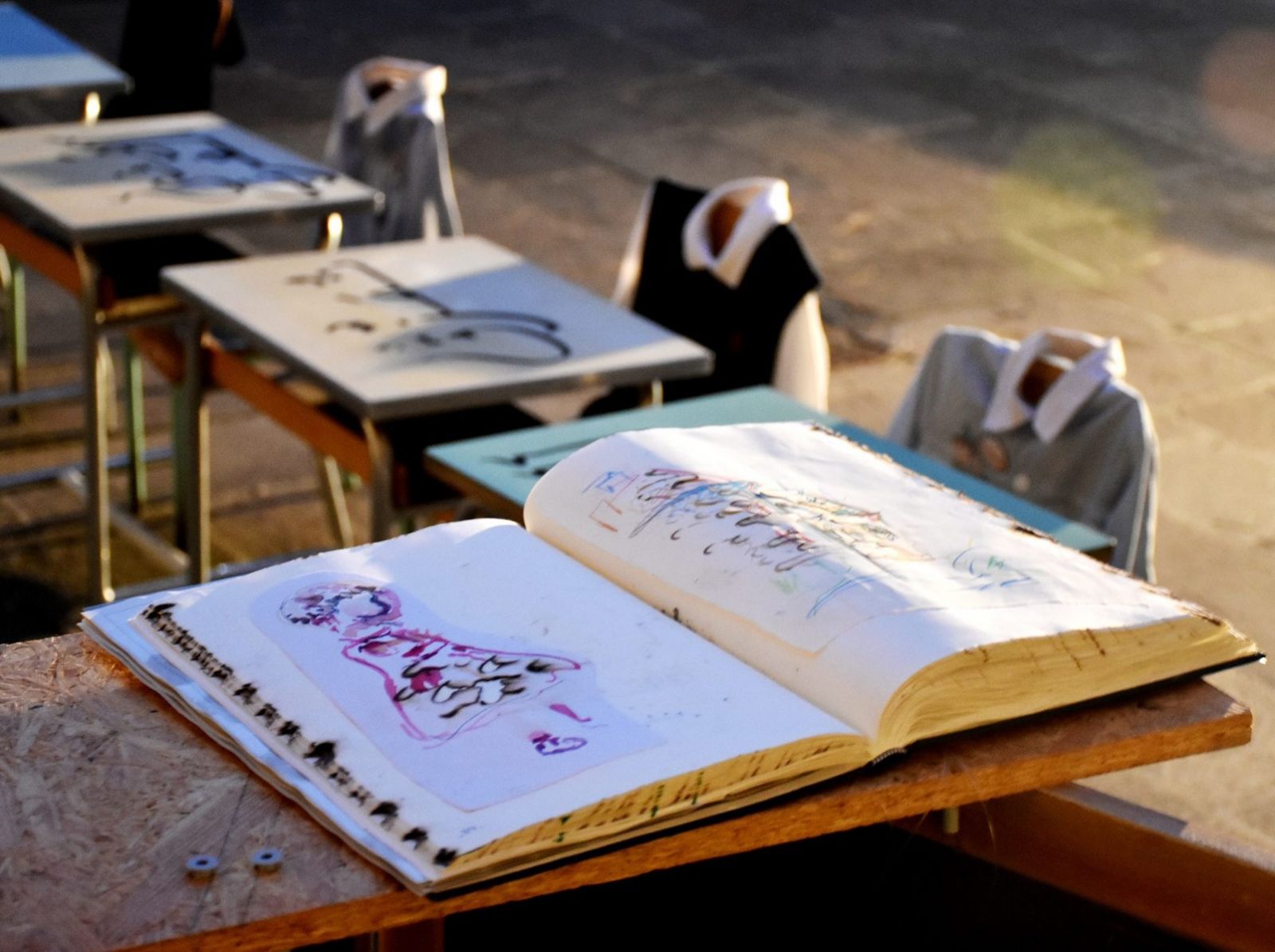 LAURE KEYROUZ
Adopt a friend, 2018
installation (10 desks and chairs, 10 school smocks, 1 table, 2 blackboards, 1 artist's book) performance (drawings Laure Keyrouz; calligraphy Ahmad Alaa Eddin; translations Silvia Galluccio, Janetta Ledell, Niu Xin, Maruša Mugello Lavrenčič; performers Sami Samuela Barbieri, Silvia Galluccio, Laure Keyrouz, Janetta Ledell, Betta Porro, Ivana Sarazin, Adriana Torregrossa.
"Adopt a friend" is an event created by Enas Elkorashy focused on the letters and drawings exchanged between 10 children from Damascus and Aleppo and some Italian students. After studying the drawings, I wrote a poem in Standard Arabic, as if it were written by one of the children. Some verses are directly inspired by the letters. The key to the work is the analysis of the most significant deprivation suffered by these children due to the war and destruction in Syria: the loss of the school and the sadness felt in being unable to return to the classroom. The 10 desks represent the children, as if they were present. On the desks I wrote the words "my soul swims, on a burnt sheet, it buries a poem in the East, and tears the twilight in the West". The performance is built around my reading of poetry in Arabic, from the artist's book "Poetry for my school – I pour myself into the scent of a flower" that I created specifically for the installation. A first version of "Adopt a friend" was held in 2017 at the "Made in … Art Gallery" in Venice. (Laure Keyrouz)
Laure Keyrouz, a poet and a visual artist from Lebanon, has carried out an intense activity of interventions in public spaces (installations / lettering and performances, writing and reciting poetry in Arabic) over the last few years. She is working on her PhD at the University of Nova Gorica on the current mutations of artistic expression (HybridMedia) as found in contemporary art and literature in Lebanon. Since 2014, she has been teaching Arabic Language and Translation at the University of Trieste.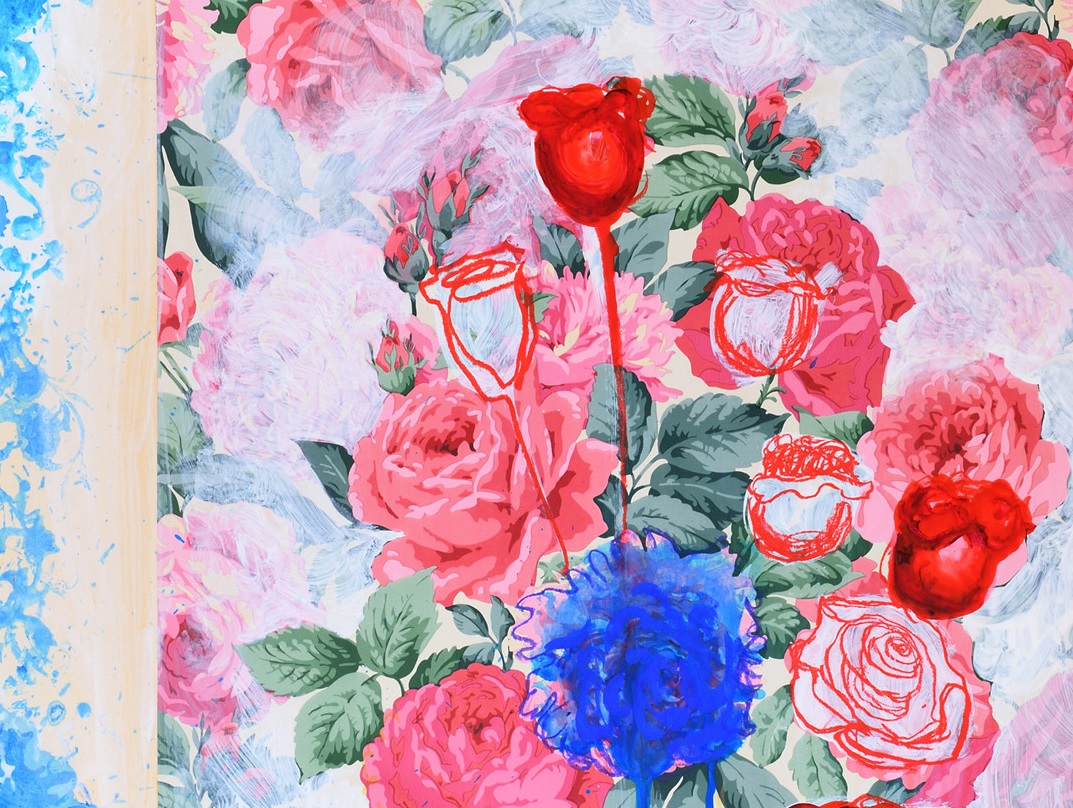 SONIA SQUILLACI
17 rose e qualcuna in più (17 roses and a few more), 2019
mixed technique on paper (detail)
For many years the artist has focused on a few selected subjects from a domestic setting. Fruits of nature, be they aubergines or other vegetables, are taken out of their context to acquire mysterious attributes. Each time, their archetypal characteristic is extolled but they are not easily recognizable at a first glance. This is mostly remarkable in her works on Plexiglas and carborundum.
Sonia Squillaci (Cormons, Gorizia, 1975), artist and teacher, graduated in painting at the Academy of Fine Arts in Venice. Her paintings, drawings, engravings, sculptures and artist's books have shown in Italy and abroad. Her most significant shows include: "Biennale 2011. The State of the Art", curated by Vittorio Sgarbi, Magazzino 26, Trieste; "Broderies" curated by Fabio Belloni, Villa Aboca, Sansepolcro, Arezzo, 2011; "Stimmate della Speranza", installation, Church of San Girolamo, Cervignano del Friuli (UD) 2012; "Group 78 – Trieste Oaxaca Torreon", curated by Maria Campitelli, La Calera Museum of Oaxaca, Mexico, 2013.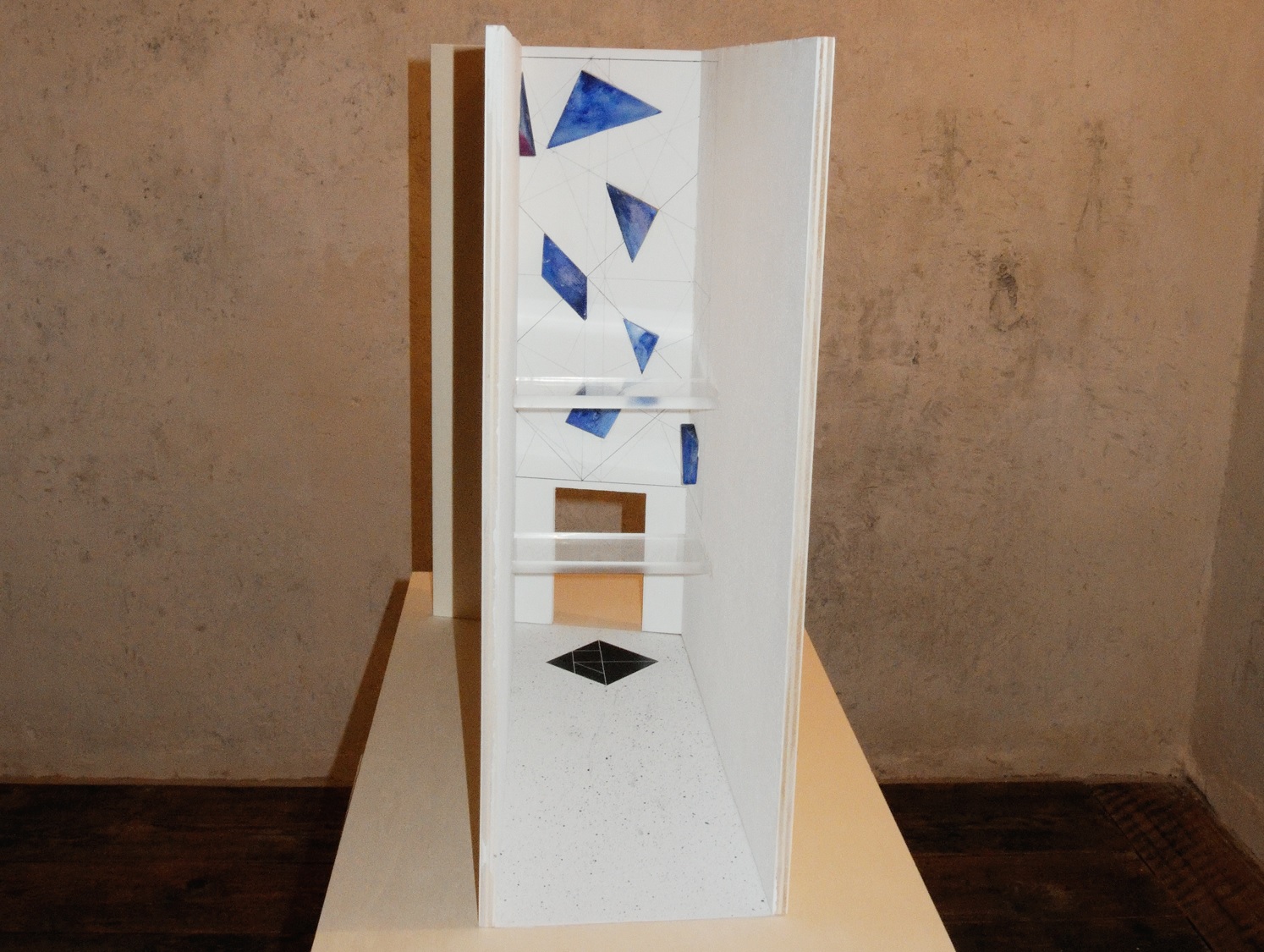 GIAN CARLO VENUTO
Identità, 2014
model, mixed media
This work is based on the very old Chinese game of TANGRAM, which divides a square into seven parts, those parts assume a volume, occupy a space of infinite facets and creative combinations, which embrace my continuous, unceasing search for identity, conducted in a defining but never definitive way. The SQUARE is a spatial module in which, or by which, I have often structured my works with an infinite variety and possibility of combinations and HARMONY that derives from it. SEVEN is a number with a particular meaning, it is the only one among the first ten numbers that cannot be multiplied or divided within the group, a number, present also in the Bible, that takes on a mystical meaning and indicates completeness and correct arrangement. (Gian Carlo Venuto)
Gian Carlo Venuto (Codroipo, Udine, 1951) has taught at the Academies of Fine Arts in Venice and Turin, as well as at the Brera Academy in Milan. He has always loved Lorenzo Lotto, Pontormo and Parmigianino, but also Rilke's poetry. Painting for him originates as a fresco — even when technically it is not — living the layers of time, thought and matter as plaster during carbonation.
.
.
.
Trieste, Studio Tommaseo, via del Monte 2/1
from 26 January to 7 February, 2019
opening hours: Tue.-Sat. 5-8 pm
free admittance
info: info@triestecontemporanea.it
phone: +39 040 639187
all images: courtesy by the artists and Trieste Contemporanea