10 march 2023
the exhibited works and their description by ruth noack
Must the periphery necessarily be defined in relation to a center, as a city's Other? Or can we allow ourselves to be inspired by the likes of Pier Paolo Pasolini, who found in the periphery … yes, sex… but also, a site in which life's drama is enacted and truth made visible? Think of the crow in Uccellaci e Uccellini (1966), prancing the periphery alongside Totò and Ninetto, speaking truth to power (and being eaten for all its efforts.)
Taking its title from Pasolini's 1963 film La Ricotta, the first of a series of "sketch exhibitions" about Eccentric Peripheries looks at gendered and migratory bodies performing (in) peripheral sites. Contrary to the customary notion of the periphery as somehow empty, negligible and marginal, interesting beings, bodies and forms inhabit and delineate peripheries.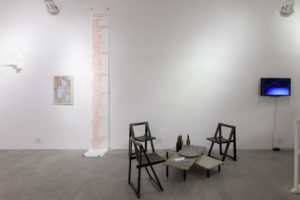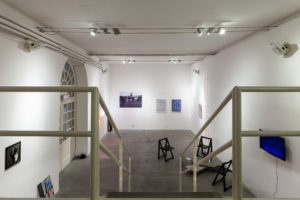 View of the exhibition at the Studio Tommaseo (photo by Agnese Divo)
In Rome, a city with unclear margins, it is sex workers, lucciole, who, through their work at the periphery, map out the borders of the city. When Pasolini lamented the disappearance of the fireflies in his famous 1975 text, he was mourning for a past, where the (his!) idea of simple folk had not yet given way to the spectre of petit bourgeoisie and fascism. But, as Pasolini himself would point out, better times and good people don't just vanish. Today, for example, essential, though often exploited migrant labour and alternative (feminist) visions of society are actively banished from the public field of vision. In their beautiful, soft and true video and performances, Pauline Curnier Jardin and the migrant trans sex workers from Feel Good Cooperative in Rome insist on reappearing.
In the versions circulating the internet, Pasolini's poem Profezia from 1968 often appears without its first half, a scathing description of the effects of Northern exploitation  on rural Calabria, focussing instead only on Pasolini's endearing, though not entirely unproblematic idealisation of the male migratory youth. Root causes of migration are thereby marginalized. Anna Dacqué seeks to activate a peripheral vision onto the poem in three steps: She transcribes the full poem from the internet, mistakes and all, into a calligraphy, adds Sabine Réthorés map, which emphasizes the Mediterranean ecosystem beyond nations and borders, and allows Běla Kolářová's 1956 photo from the periphery of Prague to reverberate the later image by Federico Garolla of Pasolini playing soccer in Rome (1960). By gathering this material, Anna Dacqué removes the boundaries between center and periphery, performing an act of worlding.
Mary Ellen Carroll's pristine gouaches might, at first glance, belong entirely to aestetic abstraction. The perspective changes once it becomes clear that the artist painted these works while visiting the periphery of the refugee camps on Lampedusa and Malta and that the grid of ovals is indebted to the plastic netting used there and elsewhere as fencing.
Anna Daučíková's sketch is the beginning of a research that started in the periphery of Ostrava, a mining city in Czech Republic. Today, most of the miners have been made redundant and the former community centers sprinkled amongst rows upon rows of panel houses have been abanoned. Amidst their ruins and debris, nature is left to run wild, claiming space, creating its own aethetic configuration.
More than simply queer abstractions, Lucas Michael's neons are one-to-one scale representations of glory holes from the Los Angeles sex club Slammer. As the artist writes: "A hole is usually a vacuum of sorts, it sucks light, and I wanted to contradict this by delineating this darkness with light, thus making it a beacon, a codified signal, an illuminating edge, a lit periphery… And it is in the periphery of urban environments where it is not uncommon to find glory holes in the men's bathrooms of rest stops —a destination of sorts, functioning as humble fireflies of sexual hope and connection in an abyss of solitude."
The history of biology is saturated with bio politics. The delineation between binary genders is one example for this. Anna Daučíková undertakes a hybridization the species by smuggling other genders in the form of found photos into the neat cartography of butterflies. This opens the door to speculation: Maybe we are not humans but butterflies? Maybe butterflies want to be fireflies? This collage from 1989 is to be contextualized in a barely post-communist Soviet-Russian environment, which for the purpose of feminist theory might as well be called a periphery. On the other hand, it might exactly be the local circumstances, which, rather than provoking mimicry of Western academia, were conducive to finding a far superior aesthetic form for queer desire.
"The now is a montage of diverse times," insist Gangart, complicating the curatorial take on periphery as a topographic locality between urban center and rural landscape or between capital and border city. They pose a syncretic scenario which seeks to stay true to the history of place, not by fetishistic reference, but by a practice of conviviality. Thus, an image taken by Geri Pozzar in 1973, showing the queer photographer with his straight friends, inspires a sound score and two entangled tables here and now. The situation invites us to sit and drink wine and read and listen and talk and look at art works, all in an appreciation of the multilayeredness of relationships.
Ruth Noack, Trieste, March 10, 2023