from 10 March to 5 May 2023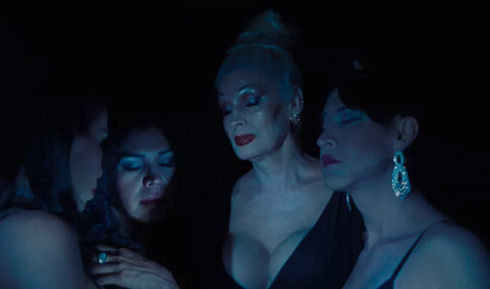 Pauline Curnier Jardin, Fireflies (lucciole), 2021, film
So you finally found us in this wasteland. Welcome!
(Pier Paolo Pasolini)
an exhibition by Mary Ellen Carroll (USA), Pauline Curnier Jardin (France), Anna Dacqué (Austria), Anna Daučíková (Slovakia), Gangart and Geri Pozzar (Austria/Italy), Lucas Michael (Argentina/USA).
curated by Ruth Noack
opening on Friday, 10 March 2023, at 6 pm
at Studio Tommaseo, via del Monte, 2/1, Trieste, Italy
a Trieste Contemporanea production
in collaboration with Studio Tommaseo (Trieste) and Galerie Hubert Winter (Vienna)
Trieste Contemporanea is pleased to invite you to the opening of the exhibition So you finally found us in this wasteland. Welcome! which will be held on Friday, 10 March 2023 at 6 pm at Studio Tommaseo (Trieste, via del Monte 2/1). Titled with a quotation from La Ricotta (1963) by Pier Paolo Pasolini, this international group exhibition curated by Ruth Noack will present works by Mary Ellen Carroll (USA), Pauline Curnier Jardin (France), Anna Dacqué (Austria), Anna Daučíková (Slovakia), Gangart and Geri Pozzar (Austria/Italy) and Lucas Michael (Argentina/USA) that, following the curatorial concept of Ruth Noack, take inspiration from Pier Paolo Pasolini's use of commons or wastelands in the city's periphery as (heterotopic) film sites on which life's drama is enacted and truth made visible.
«Must the periphery necessarily be defined in relation to a center, as a city's Other? Or can we allow ourselves to be inspired by the likes of Pier Paolo Pasolini, who found in the periphery … yes, sex… but also, a site in which life's drama is enacted and truth made visible?» – Ruth Noack asks, while continuing that this in Trieste «is the first of a series of "sketch exhibitions" about Eccentric Peripheries which looks at gendered and migratory bodies performing (in) peripheral sites, both, in the sense of bodies or forms that inhabit the space and space that is delineated through these inhabitations. The format uses the exhibition as a tool for evolving a theme and producing art work over a longer period of time, allowing for mutual discussion and support amongst artists and curator, and attempting a more organic approach to the means of production.»
The exhibition will run from 10 March to 5 May 2023 (free admittance; opening hours: Tue.–Fri. 5 to 8 pm).
Mary Ellen Carroll (1961) is a conceptual artist who lives and works in New York City. Exhibitions include the Whitney Museum and PS1 in New York, Alserkal Avenue in Dubai, ICA London, The Menil Collection in Houston, MUMOK in Vienna. https://mecarroll.com
Pauline Curnier Jardin (b. 1980, Marseille, France) lives in Berlin and Rome, working across installation, performance, film, and drawing. Her outstanding cinematic installations create unorthodox universes and tell stories, thus proposing alternative narratives. She is the winner of the 2019 German Preis der Nationalgalerie, the 2021 Villa Romana Prize in Firenze, and recipient of the 2019-2020 Villa Medici fellowship in Rome. Her work was included or commissioned over the last years in: Steirischer Herbst Festival, Graz; Manifesta 13, Marseille; Palais de Tokyo, Paris; the Bergen Assembly, Bergen Biennial; International Film Festival, Rotterdam; the 57th Venice Biennale; Tate Modern, London; Performa 15, New York. http://paulinecurnierjardin.com
Anna Dacqué, born 1964 in Vienna, lives in Berlin. She studied feminist art and art history and despite a continuous flow of work, only interrupted by the rearing of her two children, she has exhibited seldomly; notably at the Luleå Biennial 2018 and Württembergischer Kunstverein in Stuttgart 2019/20. In her own words: "Why appear unless it makes complete sense?"
Anna Daučíková is a pioneer of feminist-queer art in Slovakia and the Czech Republic, most known for her media work and performances. Group exhibitions include documenta 14 / Kassel, 2017, Sleeping with a Vengeance, Dreaming of a Life / Athens, Prague, Beijing, Stuttgart 2018-20 and Jakarta Biennale 2020. Amongst her solo shows count Secession / Vienna 2022, Plato / Ostrava 2021, Slovak National Gallery / Bratislava 2019 and Kunstwerke / Berlin 2018. Her work is collected by Tate Modern, Erste Bank Stiftung a.o. In 2018, she received the prestigious Schering Stiftung Art Award.
Gangart, operates as a team in changing constellations in the fields of art, architecture and artistic research. Their diversified works have in common a strong spacial and performative component – both in a territorial / urbanistic /architectonic and in a social sense – and a collective practice which is not limited to artistic actors. Commissions and partnerships include the Academy of Fine Arts Vienna, Art Today Plovdiv / Bulgaria, Architectural Biennial Venice, Carnegie Museum Philadelphia, CCA Center for Contemporary Arts Tbilisi / Georgia, Elias Canetti Association Ruse / Bulgaria, Middlesbrough Institute for Modern Art, Women's Museum Hittisau, MAK – Museum for Applied Arts Vienna, Moderna Galerija / Ljubljana, Mücsarnok / Art Hall Budapest, Museum of Yugoslavia / Belgrade, Steirischer Herbst Graz.
Lucas Michael born in Argentina, currently lives and works in New York City. Co-founder of Artist Curated Projects in Los Angeles, his practice spans video, photography, drawing, sculpture and installation. Lucas Michael's work explores different facets of gender, sexuality, the division and multiplicity of the self, the role of the viewer in the blurring between the public and the private in the experience of art, and the written word as generative material for code and mark-making, while placing pressure on the integrity of the art object. His work has been exhibited at Leslie Lohman Museum, Apexart and White Columns in New York City; Museo de Arte Contemporáneo in Bahia Blanca, Argentina; S.M.A.K. Museum, Gent, Belgium; performed at the Hammer Museum and screened at Getty Center in Los Angeles. https://projectlucasmichael.com
Geri Pozzar is a photographer from Trieste. In the 1960's, he starts sustainedly documenting cultural production in town, with a special focus on theatre events, from local and international opera, theatre-, ballet- and concert performances, to artistic interventions in context of Basaglia's Democratic Psychiatry. Complementing these subjects, he creates portraiture and group constellations, shifting gradually from storyboard-like narrations to staging roles and focussing on the gaze at the male body. Pozzar continues this work in London, to where he moves in 1992 and returning to Trieste two decades later. Pozzar was presented at Parisi Gallery, the Cappella Underground and the Alinari Image Museum in Trieste as well as in Milan, Ljubljana, Maribor and at London's Slaughter House, Kudos and Adonis Galleries.
Ruth Noack (1964), curator, art historian, writer and teacher, was Executive Director of The Corner at Whitman-Walker in Washington, D.C between 2019 – 2021. Noack curated documenta 12 with Roger M.Buergel (2007). Recent exhibitions include The Mental Body, Stay Alive to Life. Resilience in Times of Covid and When We First Arrived… Her series Sleeping with a Vengeance, Dreaming of a Life (2018-20) was shown in Athens, Prague, Beijing and Stuttgart. Former president of AICA Austria, author of a monograph on Sanja Iveković, editor of Agency, Ambivalence, Analysis. Approaching the Museum with Migration in Mind (2013), Noack published numerous essays and lectured internationally for more than 30 years.