11 september 2023
It will start on monday 11 september 2023 the masterclass proposed by trieste contemporanea with serbian artist vladimir nikolić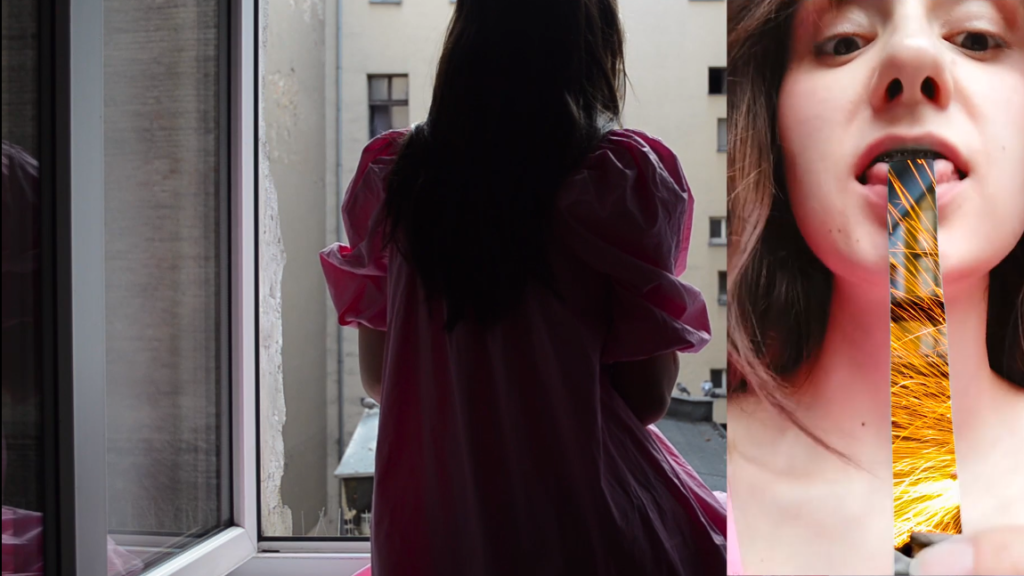 Alina Śmietana, Chew on it, video, 2023, video still, courtesy the artist
Young Polish artist Alina Śmietana has been invited to attend from 11 September 2023 an advanced training session following her participation in the Squeeze It competition, to which she submitted her video project "Chew on it".
The performer will have the opportunity to attend a dedicated masterclass at the Trieste Contemporanea premises, where she will be able to improve and analyse the technical aspects of her video work, as well as find new inspiration by discussing with Vladimir Nikolić and Francesco Scarel in an environment of research and study on visual art and theatrical and multimedia performance, of encounter and exchange characterised by the presence of artists and creative people from Central and Eastern European countries.
Vladimir Nikolić lives and works in Belgrade. His work includes video, video performance, film and photography. He has exhibited works internationally in solo as well as group exhibitions and has taken part in art residency programmes such as Foundation for a Civil Society (New York, 2003), Recollets (Paris, 2007), Otto Prod (Marseille, 2008), 24cc (Rome, 2011), Times Museum (Guangzhou, 2014), IASPIS (Stockholm, 2016) and Tobačna 001 (Ljubljana, 2017). His works are part of international private and public collections, such as the collection of the Centre Pompidou, Paris, the Berardo Museum in Lisbon, the FRAC Poitou Charente in Angoulême, the Museum of Contemporary Art in Belgrade, the Vehbi Koç Foundation Contemporary Art Collection in Istanbul and the MAXXI National Museum of XXI Century Art in Rome. In 2022 Nikolić represented the Republic of Serbia at the 59th Venice Biennale.
Francesco Scarel is an Artscience advisor and science communicator, interested in scientific communication through artistic languages. He received his PhD in Nanotechnology in 2013 from the Institute for Advanced Studies in Freiburg – FRIAS (Germany).
Alina Śmietana is an artist currently finishing her PhD at the Academia Artium Humaniorum of the Nicolaus Copernicus University in Toruń (Poland) and a graduate of Media Art and Visual Education at the Faculty of Fine Arts at the same university. She lives between Poznań and Włocławek.
The initiative is a production by Studio Tommaseo, L'Officina and Trieste Contemporanea in collaboration with Artifragili and Creaa.it and it is co-financed by the Autonomous Region of Friuli Venezia Giulia.