from 2 to 8 September 2022
one by one / uno per uno
/ jedan po jedan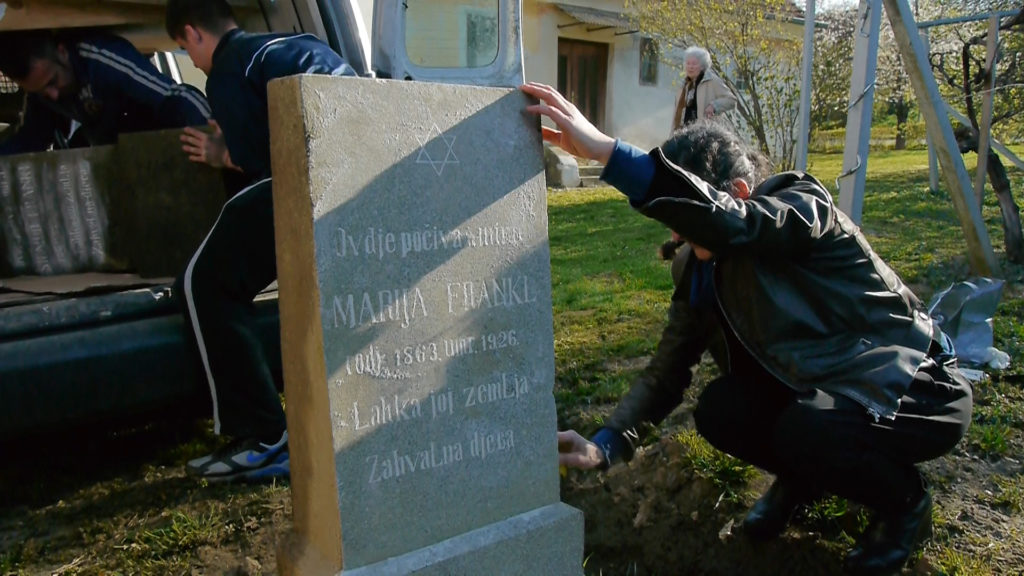 Amela Frankl, A Ballad of Two Grave Blocks, 2015, performance, installation in public space (photograph by Miran Krčadinac, courtesy of artist)
On Friday 2 September at 6.30 pm the unmissable appointment with Croatian artist Amela Frankl discussing her body of work with contemporary art curator Janka Vukmir opens the week of screenings and exhibition that Trieste Contemporanea, in collaboration with the Institute for Contemporary Art in Zagreb, dedicates to the recent video production by Amela Frankl (from 2 to September 8, 2022, at Studio Tommaseo in via del Monte 2/1, from Tuesday to Friday 5–8 pm).
Central to the One by One Trieste exhibition curated by Janka Vukmir are three video stories indirectly linked to the trauma of the Holocaust created by the Croatian performer and videomaker between 2013 and 2017:
For a Beginning, 2013, performance in collaboration with Pavao Mašić, video 49'39″;
read more
A Ballad of Two Grave Blocks, 2015, performance, installation in public space, video 4'45″;
read more

This Too Shall Pass, 2017, performance, video 5'40".
read more
On this video "trilogy" we report an excerpt from the text by Ružica Šimunović The Face (2017): "The performances of Amela Frankl draw on the personal, while making it clear that the collective and the personal partake of the same circulation, that they are interwoven and mutually determining. And when I say 'personal', I am thinking not only of the family history as told in the Ballad of Two Grave Blocks (2015) but of something – it seems to me that all three works endeavour to convey – that rests on the responsibility to confront one's own with the face of the other, of those that are no more and us that are, the community. Keeping then to first person speech, the artist in a sense spares the other. At the same time, precisely in this way it leaves us to determine our own stance, to occupy a position. And it will be formed by the encounter with works that say it is essential to speak of wounds and traumas that cannot be healed by silence, negation, refusal to accept the truth, which can be measured by nothing but bare facts. And it is on them that Amela Frankl, after all, insists, pulls them into the web of the works, offers them as pre-text and sub-text of the performances. We link facts with something that is patent, undoubted. Here it is about the transposition of facts contained in things, in materiality that is only apparently neutral and detached from the subject and the fate of the subject. In one case, this is an organ, in another a grave headstone, then a ring. These are pieces of history, dislocated, deposited, archived."
A Large Parcel, 2022, 14'42", the latest video production by Frankl is screened, for the first time, in the Trieste show: in Praška Street, in the center of Zagreb, step by step, barefoot, the performer measures the cadastral parcel number 2427.
read more
Finally, the work facts f *, 2015, is exhibited, which tells how both the artist's father and the artist studied at the same high school in Križanićeva street. But nobody ever mentioned to them one fact *: that the high school in Križanićeva street was for a short time converted into a collection centre from which the Ustasha government deported innocent Zagreb people to concentration camps from which they were never to return.
Amela Frankl was born in Zagreb in 1963. BFA at the Academy of Fine Arts in Zagreb in 1988. She lives and works in Zagreb. "Involving her own stories and concrete life situations in her works, through her mediatory artistic practice and strategy, Amela Frankl takes up the issues of personal and social freedoms, private and public lives, readiness to cooperate and empathy as socially essentially practice." T. Milovac
Productions (a selection since 2010):
PK 22, Varaždin City Museum, Program Something Else Gallery, Varaždin, 2021;
Diary from the edge of the desert, Museum of Arts and Crafts, Zagreb, 2021;
This Too Shall Pass, Institute for Contemporary Art, Zagreb, 2017;
What I Bear, editorial project, Edition Meandar Media, Museum of Contemporary Art Zagreb, Amela Frankl, Zagreb, 2016;
A Ballad of Two Grave Blocks, Zrinjevac Park, Zagreb, 2015;
For a Beginning, Koprivnica Old Synagogue, 2013;
What I Bear, project with the Museum of Contemporary Art, Zagreb, Zagreb – Paris, 2011-2013;
At the Fountain of Life, Meštrović Studio, Zagreb, 2011;
The Name of My Father, «Picture of Sound» broadcast on the Third Programme of Croatian Radio, 2011;
With and Without Them, Extravagant Bodies: Extravagant Minds Festival, Zagreb, 2010;
To the Bone, Labin Municipal Gallery, Labin, 2010.
More in-depth material:
read here the full text by Ružica Šimunović;
read here the full Croatian text Ružica Šimunović;
go to Amela Frankl's website.