from 20 to 20 February 2018
a presentation of the shenkar college's project for the triennale of milan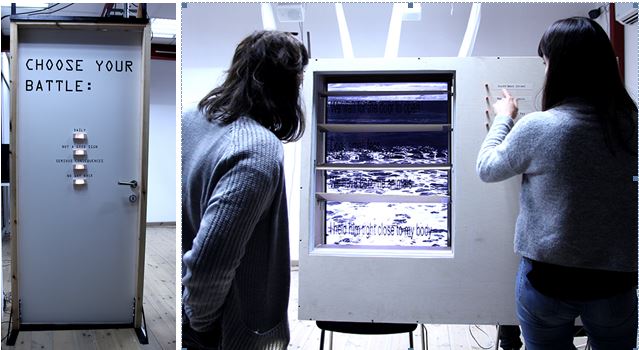 Within the programme of HARBOR FOR CULTURES meetings, on Tuesday 20 February 2018, at 6 pm, at the Studio Tommaseo (Trieste, via del Monte 2/1) Trieste Contemporanea will host the presentation of "SHALL WE GO HOME?" – a new project conceived during a trans-faculty course held at The Kadar center for design and technology (Shenkar College of Engineering Art and Design, Ramat-Gan, Tel Aviv).
About the project's concept – and its implementation for taking part in the exhibition "999: A COLLECTION OF QUESTIONS ON CONTEMPORARY LIVING", on display until April 2nd 2018 at the Palazzo della Triennale in Milan, curator Stefano Mirti – will speak in Trieste ORNA RAVIV, from the Philosophy Department, Haifa University, and from Cultural Studies at Shenkar College, which together with Neil Nenner and Michal Rinott, has led the students of all Shenkar's design departments in the realization of this interesting reading of the identities of people leaving home.
For the very original cut used in the investigation of the current development and the meaning of an increasingly temporary living, it was decided to include this presentation in the frame of the Harbor for Cultures meetings that Trieste Contemporanea is carrying out on the social dimensions and cultural aspects of the idea of a port and its imaginary (of arriving, temporarily belonging and then leaving).
THE EXHIBITION: (on leaving home) | The exhibition approaches the home not from the perspective of dwelling, but of leaving – leaving home. Sometimes we leave for a few hours, sometimes for a day. At times we go away forever, leaving the nest, or escaping out of necessity.
Nowadays, the home is changing. Living and dwelling are increasingly temporary; new technologies challenge old norms of who lives where, for how long and with whom, the social fabric of neighborhoods change.
The exhibition focuses on the house threshold, the in-between place where we are not yet outside, yet no longer within. Through the act of crossing different thresholds, visitors will experience personal, social and material aspects of leaving home in this day and age.

It consists of four interactive thresholds.
An INTERACTIVE DOOR that expresses the impact of leaving home, reacting to the specific mood of shutting it (How does the way we leave impact us, and those we leave behind?).
An INTERACTIVE WINDOW through which we can determine what we hear when we open it to the outside (Which sounds are we willing to allow in?).
An INTERACTIVE SET OF CURTAINS that allows us to move back in time, to the people who left our home before us (Who was here before me, and left their home for me?).
A INTERACTIVE EVENT in which participants' identity is determined by someone else (To which group do we belong when we leave home, and who decides what we are going to be?).
ORNA RAVIV is a Teaching Fellow, Haifa University, Philosophy Department and a a lecturer in Cultural Studies Programs at Shenkar College of Engineering Art and Design. She completed her PHD studies at the School of Philosophy, Tel Aviv University (2015). She is also a director and producer of fictional and documentary films.