from 27 May to 19 July 2017
retrospective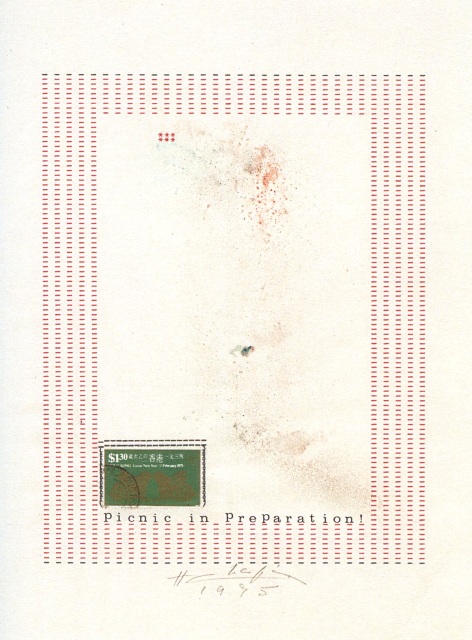 Henri Chopin, Picnic in Preparation!, 1975, typewriter poem and collage, 29x21cm
(courtesy Richard Saltoun Gallery, London)
Henri Chopin
retrospective
from May 27th 2017 to July 19th 2017
opening Saturday 27 May at 18.30
Trieste Contemporanea will be hosting from the 27th of May at Studio Tommaseo a retrospective dedicated to the artist and poet Henri Chopin (1922 – 2008).
The exhibition is a unique opportunity in Italy to discover some of his 'typewriter poems', which can be considered important expressions for Chopin's Concrete Poetry.

Henri Chopin's artistic career develops between France and England; moving between different artistic means as a tightrope walker, his experimentations become a yardstick for other avant-garde artists exploring the boundaries between various media during the fifties to the seventies.
According to the artistic principles of the time, specifically Lettrism, artistic action should not be limited to a single creative field. Chopin embraces this vision, working as visual artist, musician, poet, graphic designer, printmaker, filmmaker, radio producer, independent publisher, curator, cultural promoter and much more. Chopin is in those years a significant focus of interest and international connection between artists. He is deeply involved in the organisation of several international festivals and making radio broadcasts for many European countries. In 1964 he starts issuing 'OU/Cinquième Saison', the first international magazine of visual and sound poetry.'OU' gathers – for the very first time as part of a magazine – a collection of recordings, as well as literary compositions, images and silk-screen prints made by a number of exponents of Lettrism and Fluxus, Jiři Kolář, William S. Burroughs, Raoul Hausmann and Marcel Janco, as well as artists from Czechoslovakia and many others.
Through a kaleidoscopic experimentation of sounds and vocal distortion, Chopin works on some early sound experiments, which will become the first Concrete Poems in France. He is fascinated by the technological development in regards to tape recording media and Hi-Fi stereophonic reproduction, which will lead him to focus on 'sound poem' starting from the fifties and for all the following decade. From his first tape recording experiments, his attention then shifts from recorded sounds and words to language itself. In his 'typewriter poems', in a quite unique way for the western world, letters and characters lose their primary semantic meaning and become pure graphic signs.

Trieste Contemporanea presents this exhibition not only because of the historical connection of the author with the Eastern European artistic world, but because of the exciting opportunity he gives us to reconsider his innovative career and also analyse how visual art was influenced by structuralism. His original artistic production allows us now to name him as an important precursor of that cross sector spirit that characterised this highly dynamic moment of the European thought.
The exhibition will be on display at the Studio Tommaseo in Trieste (Via del Monte 2/1) until the 19th od July, 2017. The opening hours are from Tuesday to Saturday, from 17 to 20.