23 April 2015
starting at 6pm
On the occasion of the last day of the exhibition Voyage to Europe – Taste of Salt, Trieste Contemporanea is dedicating a special edition of Videospritz to a selection of recent video art productions from Serbia, curated by Zorana Đaković Minniti.
In the exhibition in Trieste, organized by the Cultural Centre of Belgrade – curators Zorana Đaković Minniti and Mia David – were presented works by the following artists from Belgrade: Uros Djuric, Siniša Ilić, Vladimir Nikolic, Darinka Pop-Mitić and Dragoljub Raša Todosijević. This initiative is a part of an international project that has been presented in several European cities and realized with the support of the Ministry of Culture and Information of the Republic of Serbia.
Zorana Đaković Minniti and Trieste Contemporanea selected five artists for this Videospitz presentation. Three of the artists and one art group selected are based in Belgrade and the fifth one lives and works in Trebinje, Bosnia and Herzegovina. The screening shows one possible insight in the variety of the micro poetics, different social discourses and artists' visions as well as their attitudes towards the past.
Program of the Videospritz FOCUS SERBIA – Thursday, April 23rd at 6pm: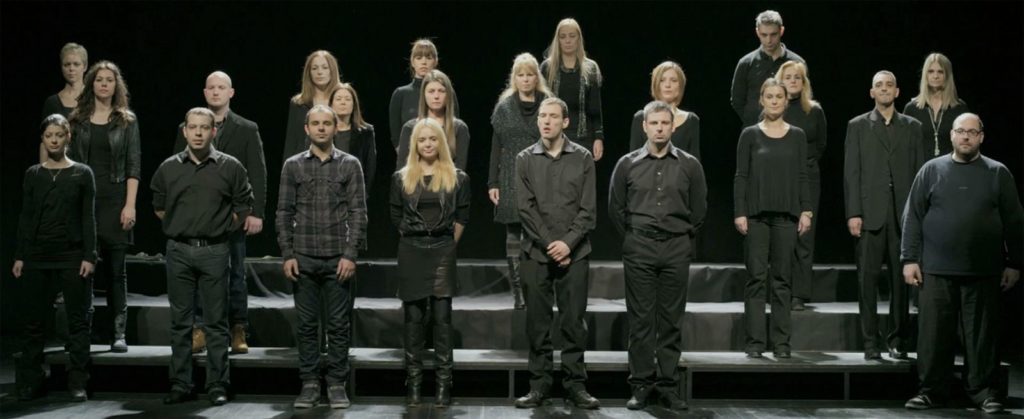 Ana Adamović, My country is the most beautiful of all, multichannel HD video installation, 2011/12, 02′ 51"
Kolibri was the most famous children's choir in the Former Yugoslavia. They were singing both children's and patriotic songs among them one of the most famous one was My country is the most beautiful of all. In April 1987, the Kolibri held a concert in the Kolarac concert hall in Belgrade. On that occasion, former members of the choir present in the audience joined the choir on the stage to perform the last two songs together, which was a unique situation in the choir's history. 24 years after the concert, 20 years after the beginning of the war in the Former Yugoslavia, some of the former Kolibri members reunited to sing the song once again in the same city, but a completely different country than was in 1987
Ana Adamović (Belgrade, 1974) is dealing with issues of identity and memory, both personal and collective, by working on the long-term photography and video projects. She lives and works in Belgrade. www.anaadamovic.com

Igor Bošnjak, If I Hadn't Done It…, video, color, HDV, 13' 03'', 2014
In the context of a large commemoration marking the anniversary of the outbreak of the First World   War, Igor Bošnjak problematizes the position of a historical figure, the perpetrator of the assassination of Franz Ferdinand, Gavrilo Princip, through a   subjective, psychoanalytical approach. With his camera, he records his movements through the streets of Sarajevo, in the first person, reconstructing events   and the scene of the assassination itself, bringing dramatization to it with his comments and timecode, with time relentlessly running out.
Igor Bošnjak was born in Sarajevo in 1981 and lives and wroks in Trebinje, Bosnia and Herzegovina. www.igorbosnjak.com

Doplgenger, Fragments untitled #1, experimental video, 6′ 50'', 2012
By changing the signifier and representation can one change the memory and influence the flow of history? The famous speech of Slobodan Milosevic, which took place at Kosovo on June 28th 1989, history regards as a presage of the collapse of Yugoslavia and the bloodshed of the Yugoslav Wars. Fragments untitled #1 vivisects media footage and TV stream of the 1989 event in order to denote the invisible and deconstruct the memory.
Doplgenger is an artist duo formed by Isidora Ilić and Boško Prostran, film/video artists from Belgrade. The work of Doplgenger deals with relation between art and politics through exploring how moving images work and modes of its reception. www.doplgenger.org

Vladimir Nikolić, Death Anniversary, Video installation, 4′, 2004
In basic terms – Death Anniversary is a performance in which one is trying to communicate with a person who cannot hear him in a way of showing what it looks like to be an artist with geopolitical burden. I had that experience almost every time I was showing my work internationally. This is the situation in which you cannot walk on the international art scene as a free man/artist – because you are always wearing this heavy load of your origin…
Vladimir Nikolić (1974), lives and works in Belgrade. www.vladimir-nikolic.com

Milica Tomić, Reading Capital, DVD installation, screening wall, text and t-shirts, 10', 2004
Prominent and respectable San Antonio/Texas citizens, who also represent the American society, globally the most developed capitalist system, were asked to read passages from Karl Marx's Capital. The project Reading Capital refers to Eisenstein's conception of a screen adaptation of Marx's Capital.
Milica Tomić was born in Belgrade. She is an independent conceptual artist, exploring different fields, genres, and methods of artistic practice. www.milicatomic.wordpress.com