from 6 May to 8 July 2022
out of control: our primary emotions and the artistic way of thinking of a post-humanist archaeologist digging up the remains of a not so distant past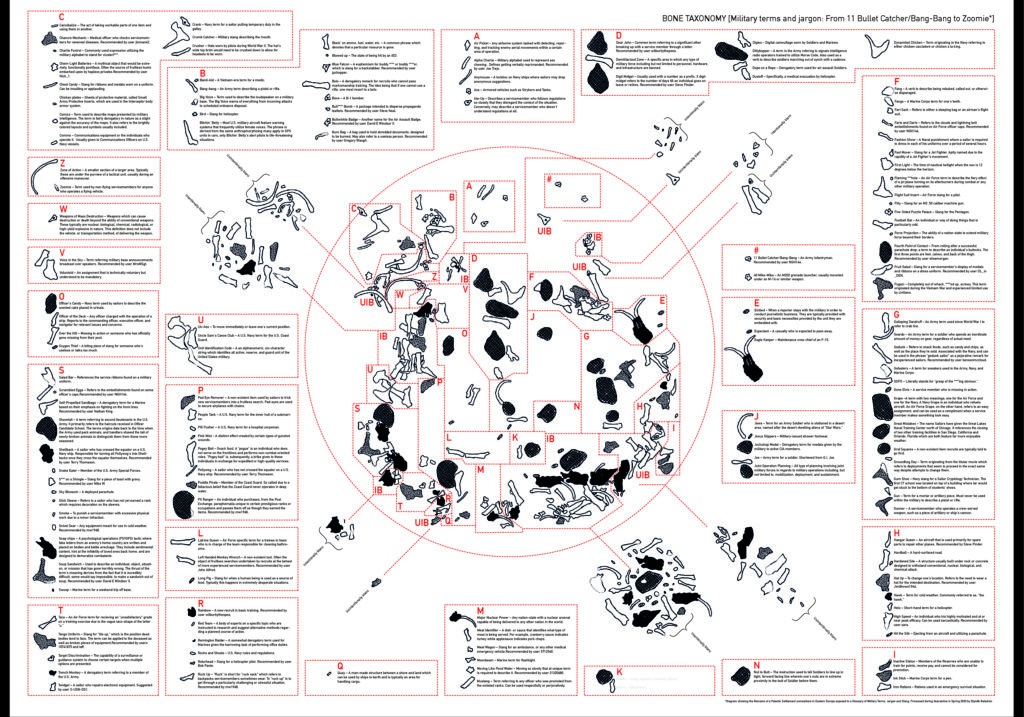 Zbyněk Baladrán, Taxonomy of bones, 2020, print on cardboard, 70×100 cm, courtesy the artist and Gandy Gallery
Trieste Contemporanea is glad to present Out of Control, the solo exhibition of Bohemian artist Zbyněk Baladrán that will open at Studio Tommaseo in Trieste on Friday 6 May 2022, at 6 pm.
The exhibition is organized by Trieste Contemporanea in collaboration with Gandy Gallery in Bratislava. It will remain open until 8 July 2022 (visiting hours from Tuesday to Friday, 5–8 pm; free access, under local Coronavirus restrictions in force).
In the Trieste exhibition Zbyněk Baladrán presents the Bone Setting, the Question of Control and the Atlas of Exomoons series: digital prints made during the two quarantines of 2020 and 2021 that analyze primary emotional situations (such as fear, sadness, agony or resistance), but also they investigate motivation, political engagement and the schemes according to which our thoughts and our actions are constructed.
As to an "out of control" situation, it is clear that not everything is in our hands: the old worldviews have disappeared and new ones are going to be born, and it is impossible to rely on previous certainty. To understand what it means not to be in control and to adapt to previously unthinkable and unimaginable things, what remains is the capability to learn and listen.
For the Trieste installation, the artist weaves a set of critical interventions as an artistic way of thinking. He does it to contribute to the discussion on current problems and threats and on possible search for solutions. Investigating the territories occupied by that part of civilization we call Western and using methodologies similar to those employed by the ethnographer, the anthropologist and the sociologist, Zbyněk Baladrán, this post-humanist "archaeologist" digs up the remains of a not so distant past, looking in particular at societal systems in relation to the heritage of politics.
Zbyněk Baladrán (b. 1973, Prague, Czechoslovakia) is an author, a visual artist, a curator and an exhibition architect. He lives and works in Prague, where he studied art history at the Charles University and new media at the Academy of Fine Arts. He is a curator from Display, association for research and collective practice that he co-founded in 2001. He exhibited internationally (i.e. Manifesta 5 in San Sebastián, 2004; the 11th Lyon Biennial; the 56th Biennale Arte in Venezia, 2013; and at MoMA in New York, 2015). He is represented by the Jocelyn Wolff Gallery in Paris, Gandy Gallery in Bratislava, Hunt Kastner in Prague and cooperative Salvator Rosa.
Read more about the works in the exhibition:
Bone setting
Question of Control
Atlas of Exomoons
Out of Control
solo exhibition by Zbyněk Baladrán
Trieste, Studio Tommaseo, via del Monte 2/1
from 6 May to 8 July 2022
opening hours: from Tuesday to Friday, from 5pm to 8pm