02 june 2016
the new display after the one at studio tommaseo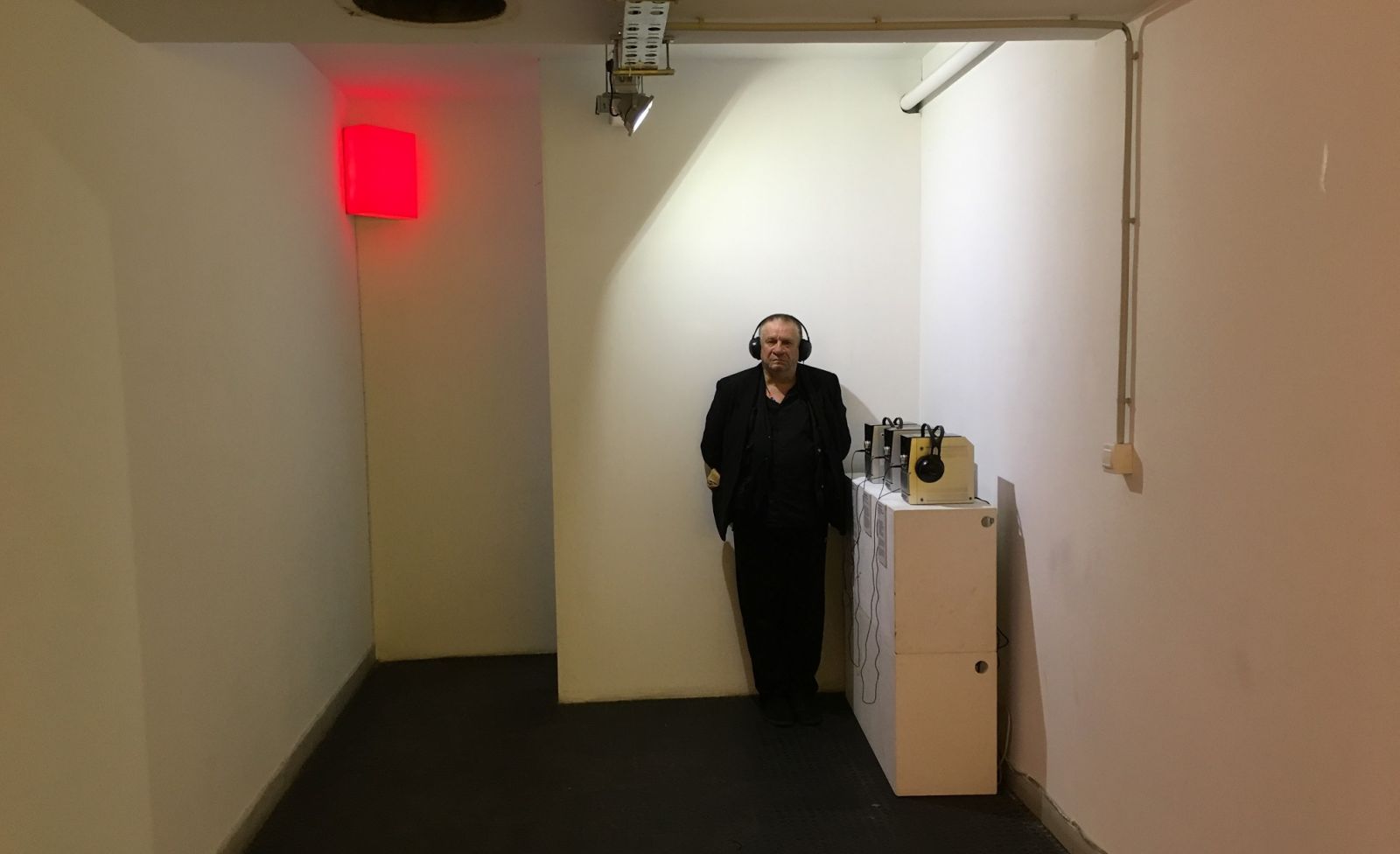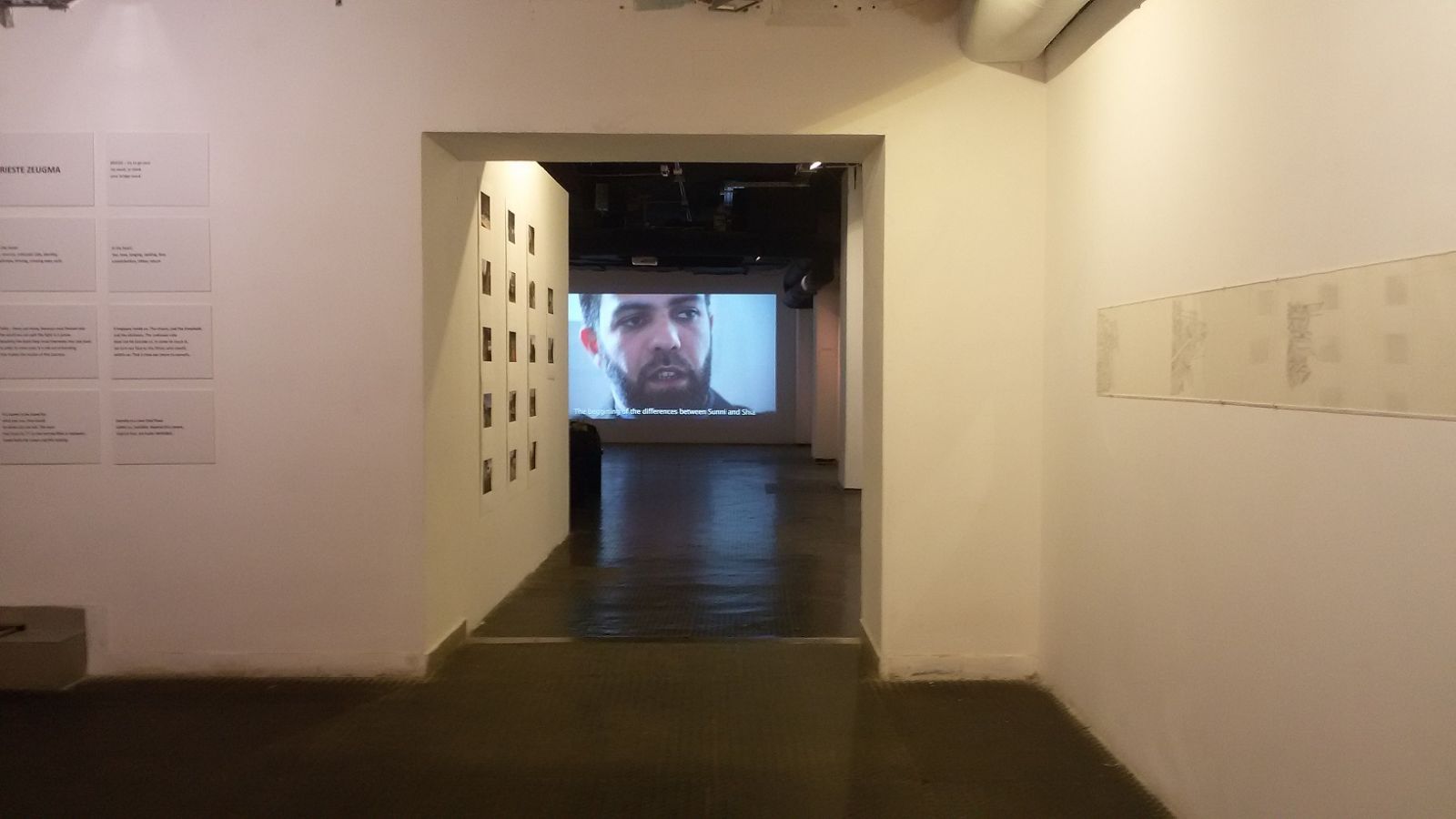 Leon Tarasewicz at the entrance and a overall view of the exhibition
Gallery Podroom – Cultural Centre of Belgrade
opening Thursday, June 2nd 2016 at 8pm
Programme:
8 pm – film screening – Silent War in Beqaa Valley, documentary film by Samir Mahanović, 22min40sec
8.30 pm – conversation about project and exhibition with authors and artists – Gabriella Cardazzo, Giuliana Carbi, Leon Tarasewicz, moderated by Zorana Đaković Minniti, program coordinator of gallery Podroom
9.00 pm – concert/music performance by Giovanni Floreani – music from the border lines – Strepitz open project
The project by Trieste Contemporanea À la Frontière…! Old and New Borders in Europe arrives in Belgrade, as its first stage "out-of-town" in the Central Eastern Europe.  This exciting "project in progress" which starts from the famous sentence of Tadeusz Kantor, opens on the 2nd of June in the around 200 square metres of the Gallery Podroom of the Cultural Centre Belgrade, curators Gabriella Cardazzo and Giuliana Carbi Jesurun.  The exhibition gathers together all the 5 sessions of À la Frontière…! already presented at the beginning of 2016 at the Studio Tommaseo of Trieste and adds the works of Laure Keyrouz (Lebanon) & Angelo Ricciardi (Italy) and of Dušan Radovanović and Aleksandar Zograf (Serbia).
The collaboration with the Cultural Centre of Belgrade, a centre that is one of the most active and focused on the international contemporary art scene in Serbia, happens thanks to the partnership of this institution with the Continental Breakfast network created by Trieste Contemporanea in 2003.
The activities of this network of museums, institutions and cultural organizations in Eastern Europe, which currently gathers partners from 9 countries, have had their debut in Belgrade in 2004, when, thanks to Continental Breakfast and curator Anda Rottenberg, the 45° edition of the October Salon, a landmark of the serbian artistic scene from 1960, changed the course of its history and opened its doors to international artists, becoming one of the most important events dedicated to contemporary art in the Balkans, of international reference from then on.
À la Frontière…! Old and New Borders in Europe is a production by Trieste Contemporanea and ArtSpace and takes place as part of the activities of Continental Breakfast thanks to the support of the Embassy of the Republic of Lithuania in Italy and the Institute of Lithuanian Culture, of Culture.pl and the Polish Institute of Rome, the Regione Autonoma Friuli Venezia Giulia, the City of Belgrade and the Cultural Centre of Belgrade.
À la Frontière…! Old and New Borders in Europe
period: 2 – 25 June, 2015
venue: Cultural Centre of Belgrade – Gallery Podroom, Republic Square 5/-1 and/or Knez Miahilova 6/-1, Belgrade
artists: Karolina Cicha, Krzysztof Czyzewski, Wieslaw Szuminski & Kuba Kossak, Grzegorz Dabrowski, Giovanni Floreani, Laure Keyrouz & Angelo Ricciardi, Predrag Marić, Samir Mehanović, Lada Nakonechna, Dušan Radovanović, Tomaś Rafa, Leon Tarasewicz, Arturas Valiauga, Aleksandar Zograf
curators: Gabriella Cardazzo, Giuliana Carbi Jesurun
opening hours: from Monday to Saturday, from 12pm to 8pm – closed on Sunday
free admittance
info: info@triestecontemporanea.it