from 9 January to 11 March 2016
old and new borders in europe
A Trieste Contemporanea PRODUCTION. An ArtSpace PRODUCTION. An ACTIVITY of the European network Continental Breakfast. A project IN THE CONTEXT OF Trieste Contemporanea, Dialogues with the Art of Central Eastern Europe 2016 and WITH THE COLLABORATION AND SUPPORT OF the Embassy of the Republic of Lithuania in the Italian Republic and the Lithuanian Culture Institute, the Culture.pl and the Polish Institute of Rome, the Regione Autonoma Friuli Venezia Giulia, the Fundacja Pogranicze (Borderland Foundation) and the Center of Borderland Cultures in Sejny (Poland), the Cricoteka in Cracow, the Institute for Contemporary Art in Zagreb, the PI Culture Menu in Vilnius, the ACM in Venice, the Studio Tommaseo and the L'Officina in Trieste. WITH THE PARTICIPATION OF the Casa dell'Arte in Trieste. We gratefully acknowledgeTHE ASSISTANCE of Tamara Andruszkiewicz, Eglė Deltuvaitė, Katarina Jakovljević, Jerzy Onuch, Julija Reklaitė, Ludka Ryba, Helmutas Šabasevičius, Milada Ślizińska and Giancarlo Venuto.
CURATORS Gabriella Cardazzo and Giuliana Carbi Jesurun.
Trieste Contemporanea opens its 2016 activity with the special project À LA FRONTIÈRE…! OLD AND NEW BORDERS IN EUROPE co-produced with ArtSpace and formed by 5 exhibitions, presenting 11 artists from Bosnia, Lithuania, Slovakia, Poland and Ukraine, and by a rich program of events: 3 lectures, 2 panel discussions, 4 conversations, 2 screenings, 3 musical performances for a total of 22 artists, musicians and experts involved from 8 countries (the ones above plus Croatia, Serbia and Italy). The starting point for this fascinating and multidisciplinary adventure into "boundaries" that are more than borders between states and peoples, will be the sentence of Tadeusz Kantor "À la frontière …".
JANUARY, 9> 19 /
exhibition 1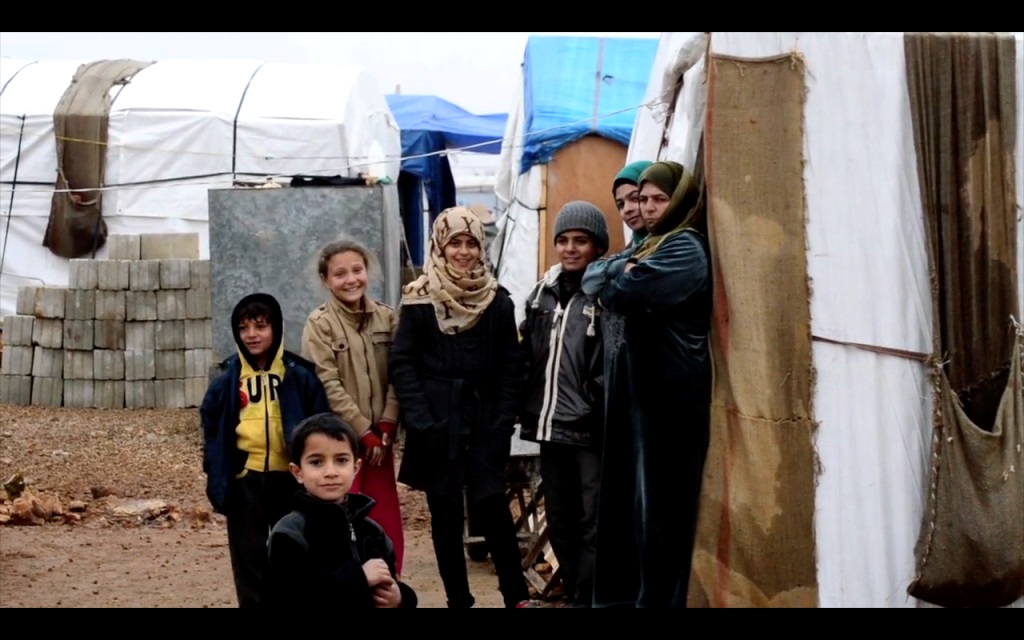 Samir Mehanović
Silent War in Beqaa Valley, 2014
video

The documentary Silent War in Beqaa Valley was filmed, in January 2014, on the border between Syria and Lebanon. It tells the story of the refugees from Syria and the children who are struggling to get proper education in the unsteady borders in Beqaa Valley. The work is part of the filmmaker's artistic research on how international community can protect civilians in war zones.
Bosnian born and Scotland based,
Samir Mehanović
is a film and theatre director, producer, and screenwriter. In 2015 his film
The Fog of Srebrenica
was awarded the IDFA Special Jury Award for Mid-Length Documentary. He has previously received the BAFTA Scotland award for Best First Time Director for the short film
The Way We Played
, which has screened at over 30 festivals.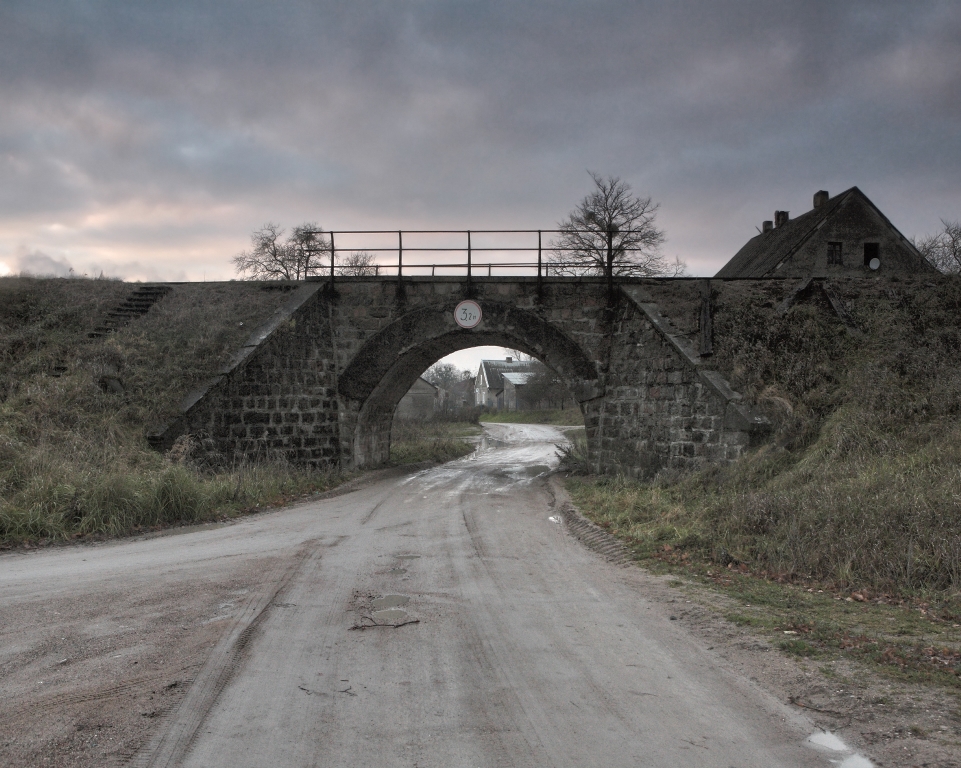 Arturas Valiauga
Raminta. Rominten, 2012 (27)
photography

From The Land of Longing, a series of photographs shot in Konigsberg area (Kaliningrad Oblast) that attempts to view Kristijonas Donelaitis' Lithuania Minor in the context of today.
Arturas Valiauga
is an artist and a photographer. He was born in 1967 in Vilnius, where he lives and works. He graduated from the Vilnius College of Technologies and Design and in 2010 he gained his master degree at the Vilnius Art Academy. He has started working and is well-known as professional advertising photographer. Among the most important art exhibitions and projects he has been taking part in since 1993, there are the project
Work
by the International Photography and Research Network (2005-2006), the 4th International photographic art triennial Ars Baltica, the EU-Japan fest project
European Eyes on Japan
(vol. 11). Themes of social identity and time perception are dominating in Arturas Valiauga' creative works.
READ MORE abuout the opening and the programme of Saturday, January 9.
JANUARY, 21> FEBRUARY, 2 / exhibition 2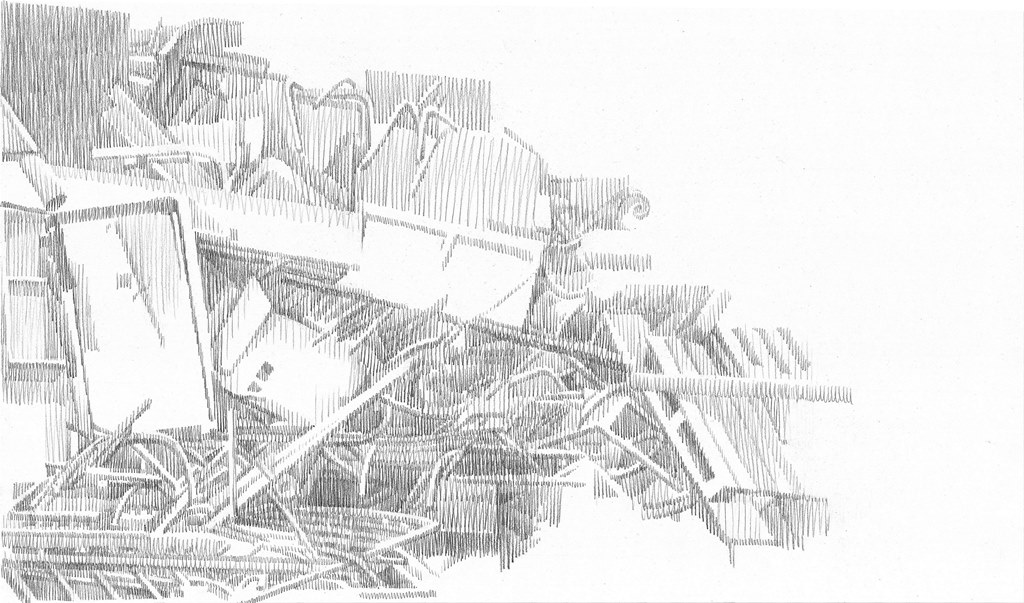 Lada Nakonechna
From Left to Right, 2014
series of drawings, graphite on paper

The artist's source are her own photographic images of barricades that were built by protesters in the winter of 2013/14 out of anything they could get hold of on the Majdan Nezalezhnosti, Kyiv's Independence Square. The work bases on the writing process, which in Western culture is from left to right. As the words "left" and "right" also refer to opposing political stances, these drawings leave open the question about a possible change in direction, therefore they dissolve to the right into nothing.
Lada Nakonechna was born in 1981 in Dnipropetrovsk, Ukraine, and lives and works in Kyiv. She is an artist, a curator (member of curatorial and activist union Hudrada) and an educator (co-founder of the Course of Contemporary Art in Kyiv). From 2005 she is part of the R.E.P. group. She has participated in numerous international and Ukrainian exhibitions including 2015 exhibitions at the Museum of Modern Art in Warsaw, and at the Kunstmuseum Wolfsburg, Germany.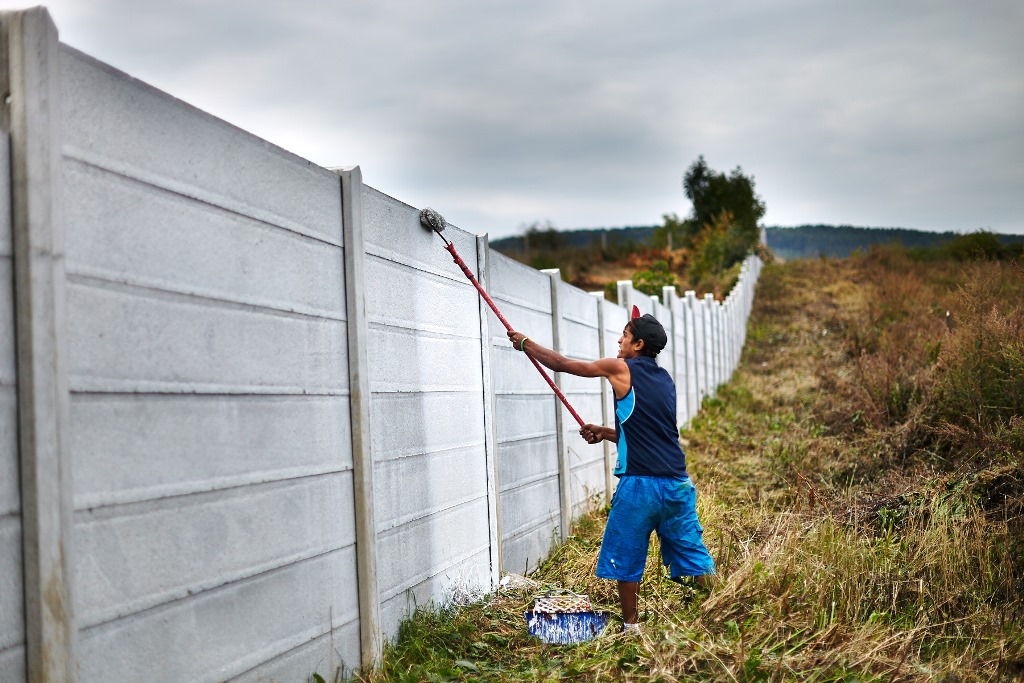 Tomáš Rafa
Painting on the Wall of segregation in Ostrovany, East Slovakia, 2012
photography

The work is part of the series New Nationalism. Traveling between Poland, the Czech Republic, Hungary and Slovakia, a photo and video project that details the creation of conflicts that arise from prejudices, superstitions, and resentments in the region.
Through this ongoing project, that started in 2009,
Tomáš Rafa
investigates notions of nationalism in Central Europe. Featuring tense footage and reports of political demonstrations, blockades and protests, the Slovak artist and filmmaker captures events often unseen on TV news programs.
Winner of the Oskár Cepan Award in Slovakia (2011), Rafa's project is housed on a website that has been screened in museums and galleries across Europe, promoting positive social activism and triggering community conversations about nationalist conflicts.
READ DETAILS about the opening and the musical performance by Predrag Marić.
FEBRUARY, 4>15 / exhibition 3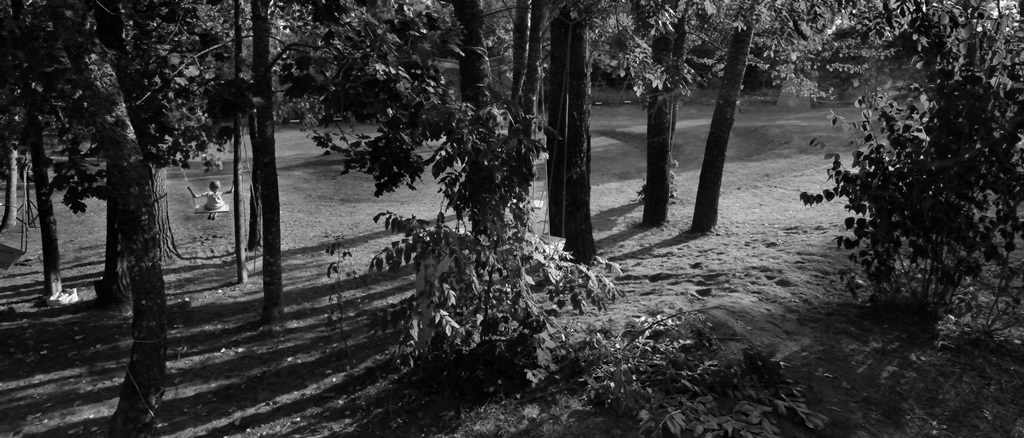 Wiesław Szymiński
Invisible Bridge, Krasnogruda, 2015
photography
Krzysztof Czyżewski, Kuba Kossak, Bożena Szroeder and Wiesław Szumiński
Invisible Bridge
, 2014 is an exhibition specially prepared for Trieste Contemporanea and an outcome of a project realized by the Borderland Foundation and the Center "Borderland of Arts, Cultures and Nations" during the last three years. This polyphonic tale involving poetry, sculpture, film and photography has both artistic and social dimension.
The exhibition will consist of several integrated elements. It will be created by artists from the "Borderland" team or closely related to them, Krzysztof Czyżewski (concept and poetry), Bożena Szroeder and Wiesław Szumiński (sculpture and photography) and Kuba Kossak (film).
A text-manifesto written in a form of poetry by Krzysztof Czyżewski will be exhibited. A small maquette created in clay and wood by Bożena Szroeder and Wiesław Szumiński will be presented in open space to make an observer walk on it. A collection of around 20 photographs by Wiesław Szymiński will be displayed. The film
Invisible Bridge
by the artist and film director Kuba Kossak will be screened. Archive material from the collection kept by the Borderland Centre will be part of the exhibition. .
READ "TRIESTE ZEUGMA", the manifesto of the "Invisible Bridge" project
FEBRUARY,18>28 / exhibition 4
Leon Tarasewicz inside his installation conceived for the opening of the new building of the Silesian Museum in Katowice, 2015 (courtesy the artist, photo PAP / Andrzej Grygiel).
Leon Tarasewicz is one of the most intriguing contemporary painters in Poland. He was born in 1957 in Waliły in the Podlachia region. He studied at the Warsaw Academy of Fine Arts under Tadeusz Dominik, graduating in 1984. He has run a painting workshop at his alma mater since 1996.
Ever since his debut, he has been a prominent member of the art scene, even though he identifies the centre of his world as the small village of Waliły near Białystok. He emphasizes his Belarusian provenance, and identifies with the Belarusian minority inhabiting eastern Poland. He has acted as a spokesman for that minority on many occasions and has supported initiatives reviving Belarusian culture. In 1999, he did not accept the Art Award of the President of Białystok in a protest against the local authorities' policies, which, in his opinion, were stoking the conflict between Polish and Belarusian communities. (from Małgorzata Kitowska-Łysiak, "Leon Tarasewicz",
culture.pl
)
MARCH,1>11 / exhibition 5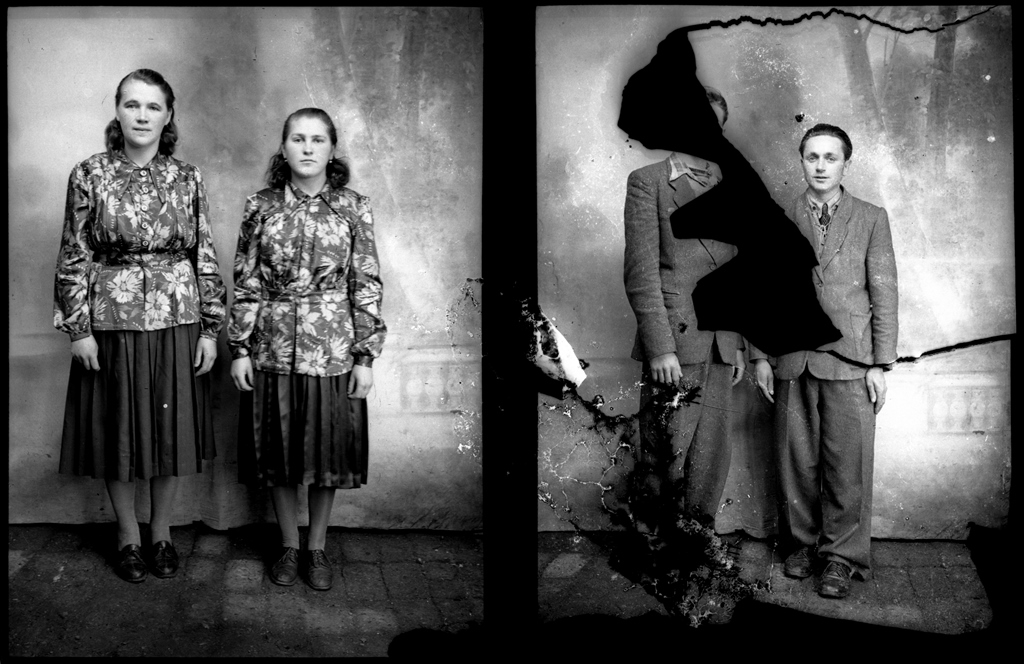 Grzegorz Dąbrowski
A photography from the albom.pl project.
In the Summer of 2014 a group of ethnographers, among which the photographer and journalist Grzegorz Dąbrowski, went on a field trip during which they visited seven towns located along both sides of Polish-Belarusian border (Kleszczele and Grodek in Poland; Sopoćkinie, Łunna, Wołpa, Wołkowysk and Kamieniec in the Republic of Belarus). They were in search of old archival photography (they documented and digitalised some 2300 photographs from private archives), however what they found turned out much more than that.
Grzegorz Dąbrowski is a Polish photographer and curator and a journalist at the "Gazeta Wyborcza" in Warsaw. He has worked on the archives of the photographers Bolesław Augustis, Antoni Drodowski, Jerzy Kostko and Jan Siwicki and has documented, in 2013-2014 and with Urszula Dąbrowska and Rafak Siderski, the Polish-Belarusian border in the project albom.pl.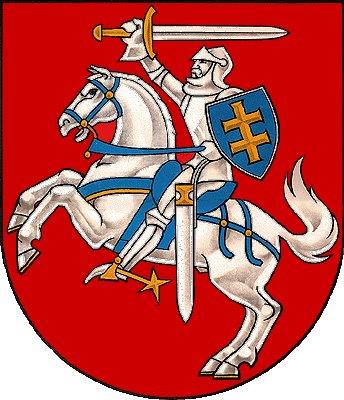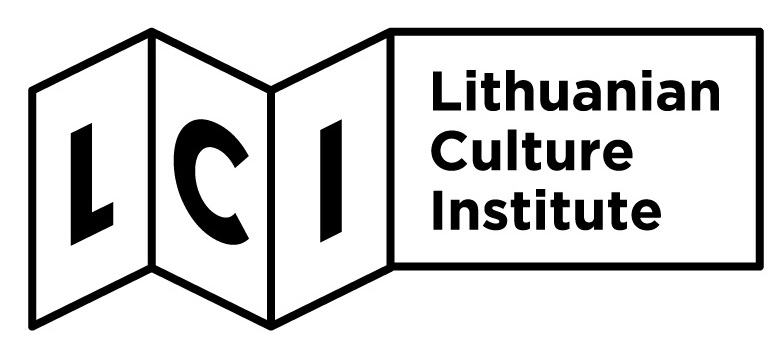 AMBASCIATA DELLA REPUBBLICA DI LITUANIA
NELLA REPUBBLICA ITALIANA
À LA FRONTIÈRE…!
OLD AND NEW BORDERS IN EUROPE
January 9 > March 11, 2016
venue: Trieste, Studio Tommaseo, via del Monte 2/1
opening times: Mon – Sat, 5 – 8 pm
free admission

INFO
Trieste Contemporanea. Dialogues with the Art of Central Eastern Europe
via del Monte 2/1, 34122 Trieste – Italy
+39 040 639187
info@triestecontemporanea.it
www.triestecontemporanea.it